I haven't hauled like this in forever but I just went crazy this weekend!!! Most of it was on sale and I got pretty sweet deals too... so let's just get started! YES, I'm very excited about what I got.
First off, I have been meaning to get a new pair of sun glasses for weeks now! My favorite pair of sun glasses broke a few months ago and I've been wearing this other pair that just doesn't look that great. I have been searching high and low for a new pair that looked like my old ones but, truth be told, that last pair was just too perfect to replace. But I think I found something pretty close!
At the same place I found these sun glasses, I also picked up a new wallet. I first saw this wallet and thought it looked really good... but it was $12.50 and I just thought I could find better ones for less. But today I just gave in to temptation... and turned out that wallet was on sale! YES - on sale for $5!!! WHAT? Hahaha I was so happy!!! To quote JLo- "I'm lucky like a four leaf clover"... haha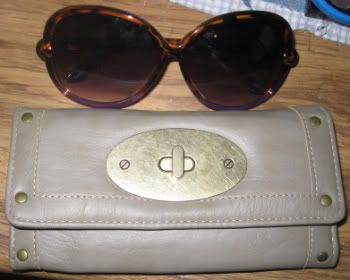 Charlotte Russe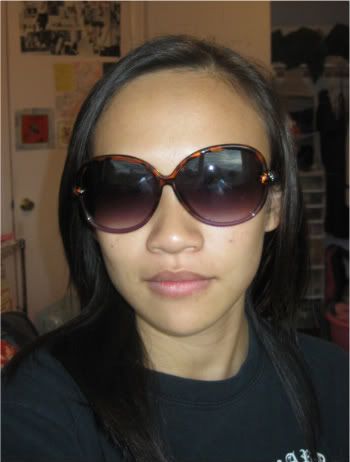 What do you think?
On Saturday, I went to Ulta because I received the coupon for $3.50 off $10 purchase. I saw that the Ulta brand was having a sale and wanted to check it out.
NOW... you guys... I really really recommend you going to Ulta and check out some of those products!!! Especially the Automatic Eye Pencil and single shadows!!! I was swatching the eye shadows for like 30 mins because I couldn't decide what to get! They had many options and I would've gotten so many but I had to control myself... haha
I also got a new mascara - L'Oreal's Voluminous Naturale in Blackest Black --> possibly of the my favorite mascara EVER!
Liner- $1 in charcoal; Single Shadows- $2 each; Top: Rose Dusk, Bottom: Eggplant
By the way, that liner is FANTASTIC! Way better than Revlon's Colorstay because it is long lasting but goes on very creamy! I think I might go back to grab a few more since it is only $1!!! And for those of you who LOVE eye shadows, please go check out there single shadows collection. The greatest thing about Ulta brand make up is that you get to try it out and swatch the colors before you buy.
Anyways, I am so happy about my purchases overall!!
What have you guys been hauling?? Please share!!
♥ My Bday is next week!!!!! UGH I don't like getting older... But I did get a cute dress to wear to it! HAUL HAUL HAUL - that's all I did this weekend - I swear.
♥ I got complimented on my eye make up today - woot woot
♥ New dislike: Product placement (OBVIOUS ones) in music videos... who here agrees w/ me?
♥ I got me new sun glasses & wallet ---- the only thing I need now is a new purse... anyone know a good place for a cheap (less than $30) bag???