My mom is definitely not a make up person and it is really accurate to say that I did not develop this new hobby due to her. It was b/c of Youtube :D I remember that my Dad bought her an Elizabeth Arden make up kit for anniversary or Valentines or something but most of it belong to me now - although they are as OLD as heck and need to be thrown out!
However, it is accurate to say that I've influenced her with her new (not as big) interest for cosmetic. Of course, she still focus more on the skin care - anti aging and moisturizing stuff. And she is a big make up snob - "Drugstore make up will turn your lips purple and your eye lids black..." - I still got her to try out mascaras and stuff.
Recently, I've been noticing some changes in my make up stash... why are there orange specks on the dresser's surface? Wait... where is my Max Factor 2000 Calorie????????? WHERE IS IT!!??
It seems that my mother is to blame. The orange powder: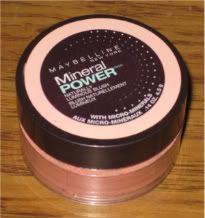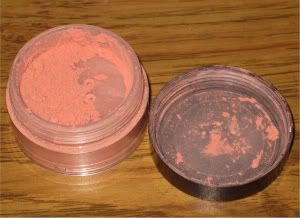 It's my Maybelline Mineral Power Blush in True Peach II. It's a really pretty corally color and it seems that is my mom's favorite weapon of choice. Now, why did she choose the mineral... the hardest blush to keep clean...?? I don't know. Needless to say, I've had to clean my area a few times now. And she's always so sneaky about it. I've never been able to catch her using it but she always manages somehow.
**Mini review: This blush is really pigmented - no need to pile it on. It's mineral so it can get messy. Lasting power is decent I think - longer than I would expected but to make it last a long time - use some sort of primer. A cream blush underneath perhaps. This is a really nice MATTE blush - yes, no sparkles. Gives a really great glow if you don't overuse it. That is an important point. You get so much product! And it is fairly cheap. I'd recommend trying out something like this but not all of the Maybelline Mineral Power blushes are matte so beware.
Also, I found my Max Factor 2000 Calorie in her room the other day. I left it there. It is nice to see her enjoying herself with make up. I feel like when a person just takes a little bit more time trying to look better, it boosts their confidence a little bit - well, maybe that's just my view and experience. It's kinda like "I don't feel like crap and I shouldn't look like it either". However, I was relieved that I've found the mascara. Should I tell her that this new beloved item is discontinued in America? I'll save that for later.
-------------
Does anyone know what they're gonna be for Halloween yet????? I think I know, inspired by the awesome MichellePhan:
It seems so easy and I can totally make the mask. I will also get some pretty feathers and decorate the mask and dress... so much fun! Anyways, I have no definite plans for Halloween yet... which always sucks because I like to know NOW! But no worries.
But let me know what you're gonna be! I'm excited!