I wrote about my blush collection a while and then about my nude lipsticks. This time, I want to expand and talk about my "PINK" color lippies. I HAVE A LOT! I feel like people tend to buy the same colors over and I definitely bought a lot of pinkish color lipsticks. So, here THEY ARE: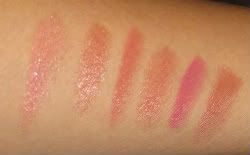 I'm pretty sure the swatches are in the same order; Of course some of them are more pink, some are more coral, and some are more nude/neutral.
So from left to right:
** Revlon's Creme Lipstick in Wink for Pink: It's very barbie pink but it isn't overly BRIGHT. It's very dolly and girly though. Um... it is a creme finish; nothing too special about staying power or moisturizing though. I like this but not an everyday color. I have pigmented lips (top lip has more color than bottom) so sometimes it would look fine on my bottom lip but not the top. But then sometimes it would look great... really depends on my the lips feel I guess.
** Wet n Wild Lipstick: I don't know the name but I have written about this before. It is really frosty. I talked my mom into buying this and that is a lot of work considering she doesn't believe in cheap make up. When I put this on, she said it was so frosty that it looked like I had fat "like lipid fat" on my lips. That stopped me from trying it for a while. But I've started to wear this again. It is VERY pigmented and feels great on the lips. I just wipe the frostiness off and voila... it looks fine :) Kinda nice as a nude pink lipstick.
** Victoria's Secret Very Sexy Lipstick in Sweet Nothing: Ha ha, I've already talked about this too. Basically, it is a nice everyday pink lip look. Very much a dupe of NYX Thalia but I like this more. End.
** Maybelline's Moisture Extreme in Rosy Glow: One of my first lipsticks EVER! Look at that - I've def. used it! Yay! The top is no longer pointy. I still love this lipstick and it is great - moisturizing, feels nice, SPF 15... the thing is it has a lot of glitter in it. Not sparkle but glitter! And the lipstick would wear off and the glitter would stay put. I'm still working to finish it but just the glitter really turns me off.
** Maybelline's Moisture Extreme in Winsdor Rose: I decided to swap for this b/c I've heard someone mentioning this as a really nice pink lipstick. As you can see, it is very cool toned and very pigmented and bright. I like that it has no shimmer but... I don't like cool toned lipsticks. They don't go well w/ my skin tone.
** Lancome's Ecran Square: My mom bought this soooo long ago - I guess you could say we have sorta the same taste since I've bought lipsticks very similar to this one. But it is one my favs still! Again, no more pointy! I've def. used this baby WEE!! This and Victoria Secret - I would wear for everyday :D
- Until recently, I have been ignoring my lippies. Going to school, I would not put any one in the morning or during the day. Now, I'm working to use up my lippies. Why, b/c I want to buy new ones! Ha ha. I am trying (successfully too) to not buy any new lippies until I've used up at least one thing. I just don't want to go to the store and buy another lipstick that will end up looking like something I already have! Now, I always carry some sort of lipstick and lipgloss w/ me. Whenever I have time, I would put it on.
--------------
Yikes, too wordy for one post! Let's put in some pics to balance everything out. Again, just trying out a more colorful look: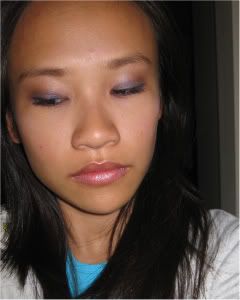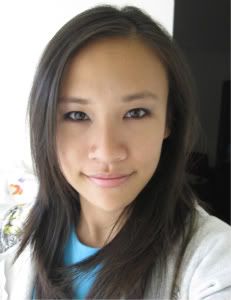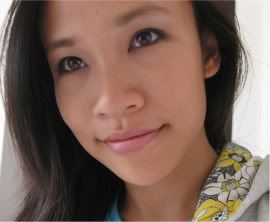 THERE. Much better.
--------------
School's been crazy and stressful. For the last 4 weeks - I've had at least one or two test every week now. Stupid science major. So I haven't had much time to put on make up in the morning so I came up w/ a pro/con list of this:
PROS:
+ More time to sleep
+ Less worry about how the make up is holding up during the day
+ Don't have to use make up remover at night
+ Can touch face and eye area w/out worry
+ Skin can breathe
CONS:
+ Can't play with my make up in the morning
+ Too many things I have but don't use
+ My lashes aren't curly or long or volumized
+ Sometimes I don't feel dressed up... I feel like I look tired and BLAH!
Okay, I should go off and study some more (I have two tests next week! YIKES!)
See ya~