60th post! And 2nd in a few days. Yes, I got my camera back and ready to take some more pictures.
So this post is about my "3 Things".
1) 3 Things I Will Never Repurchase: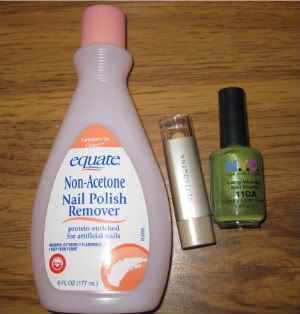 + Equate nail polish remover - This thing.... UGH!!! It will take forever FOREVER to get the polish off and with some hard core scrubbing too. Dries out my nails - make them unhealthy. Smells horrible and is disgusting if it gets on other things. I hate this thing. It was 0.99 so maybe if I get something a little more expensive. Anyone got any suggestions??
+ NYC nail polish in Luxury Lime - makes my nails look like they are unhealthy shade of yellow. I actually wanted to franken w/ this and make it more opaque but that didn't work out. I will probably throw this out.
+ Neutrogena concealer stick in yellow - drying - cakey - doesn't cover well. Makes my under eye circles gray. YUP, not good my friends, not good.
-----
2) 3 Things I'm Not Sure About: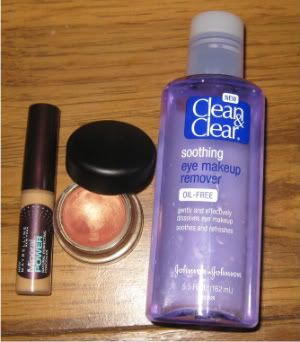 + Maybelline Power Concealer in Sand - sometimes this works great as an under eye concealer and then sometimes it looks powdery and cakey. I don't get it! Application is the same all the time - sometimes it just hates my skin I guess.
*** Good tips: if concealer is too light (which this is) put some bronzer on it to warm it up and darken it to a natural color. It really works!
+ MAC's Rubenesque paint pot - I like this color in the pot but on the skin it is kinda yellow-gold... which sometimes doesn't work w/ my skin tone. Also, when I use this as a primer/base - sometimes the shadow would crease and then sometimes it wouldn't. I don't really know... so it doesn't work amazing for staying power and creasing power but it works fine as a base. I don't know about this one...
+ Clean and Clear's eye make up remover - This works fine but then I find that it is really oily! But not so bad that it clogs pores. The only thing is - sometimes it works great and then other times it takes FOREVER to get everything off - especially gel liners or liquid liners. So messy!
-----
3) 3 Cheap Things I Really Enjoy!: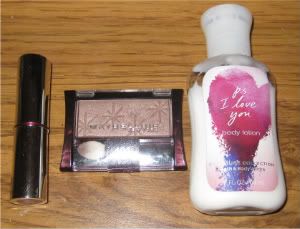 + L'Oreal Juice Stick in Chai Love You - I wish I knew how much I would love these so I would stock up now that they are discont. Sad! This is great because it isn't so dark but it gives a nice glossy - sheer but not clear - color and finish. I really like this! I would keep this in my backpack for awhile as my lip color during the day... but then I thought it was unfair to the others.
+ Maybelline single eyeshadow in Beach Blush - great brown color! Chocolately! Brings out my brown eyes and gives my lid a nice wash of color. Not as pigmented as some would like but I'm totally fine w/ it. I use this all the time - especially this summer when I went on vacation. Really, one of my fav. colors!
+ Bath and Body Works lotion in PS. I Love You - he he, I love this lotion smell. It's just a typical lotion - nothing special - except for the smell. It is really great! Reminds me of my mom's Dior perfume.
-----
Alrighty - I'm getting tired and I can't type well anymore. GOOD NIGHT!