So I haven't blogged in a while!! Sorry about that... I just ran out of things to blog about... ha ha. I was doing so well too - popping out like 3 posts a week. I've just been preoccupied with other thoughts besides make up and beauty stuff...
So when I have nothing to blog about, I usually do tags. Here is the
25 Questions Tag
stolen from (an awesome blogger)
Glam Morena!
:
1. Do you apply your foundation with a brush, sponge, or fingers?
Lately, just fingers.
2. Do you apply your eyeshadow from light to dark? or dark to light?
Depends on the look - an everyday look: light to dark. A smokey look: dark to light.
3. Do you prime your eyes?
YES! It's a must.
4. Concealer first, or after foundation?
After. Often during the school year, I don't even wear foundation.
5. Go for manicures, or manicure yourself?
Manicure myself.
6. Exfoliate lips, face or both?
I exfoliated my face yesterday using St. Ives Apricot scrub - but I use that like once every two months... and I don't exfoliate my lips.
7. On average, how long does it take you to do your makeup?
I try to keep it to 20-25 mins if I'm doing the whole face for going out. But usually just 10 mins - moisturizing, filling in brows, lining eyes, curling lashes, mascara, blush and lip stuff.
8. Do you wear makeup everyday and everywhere?
If I leave the house, I always put on moisturizer w/ SPF, fill in my brows, and put blush on. This takes like 5 mins.
9. What release are you most excited about? (Makeup)
Eh... I don't really pay much attention to this sorts... but check out this
awesome post
about new drugstore products.
10. What's your weakness? Shoes, purses, clothes, jewelry, eyeshadow, lipstick or other?
Everything above... but lately I am more into shoes and clothes!
11. Do you whiten your teeth?
I used to w/ Crest White Strips... but I haven't used it in a really long time.
12. Wax eyebrows, or pluck?
NEITHER... ha ha yeah, that's why I have kinda bushy brows... but I just hate hate hate doing it.
13. What do you use to contour?
I don't really contour but ELF bronzer/blush duo has great contour color in the bronzer.
14. False lashes, or natural?
Natural... but I want to try out false lashes soon.
15. Favorite makeup brand?
Revlon, Maybelline, and ELF
16. Liquid eyeliner, pencil or gel?
Pencil - easiest way to apply for me.
17. Lipstick, lipgloss or chapstick?
Lipstick for sure. I'm so clumsy w/ lip gloss.
18. Pigments, pressed or cream eyeshadow?
I like pressed the most but I do enjoy cream shadows as well - serve as bases.
19. If you had to wear only one thing, excluding foundation; what would it be?
BLUSH!
20. Favourite color?
Blue
21. Favorite color combination?
I have no clue... I think right combo of yellow and blue looks great! Also pink and teal/cyan blue
22. Natural? or Dramatic? (Eye Makeup)
I'm always for natural.
23. Do you care more for quality or name brand?
I definitely care more about the quality but also the affordability.
24. Do you enjoy using face masks? If so which ones
I have only used the Queen Helene mint mask and it is okay... kinda drying though so watch out.
25. What is your current addiction? (example: lipsticks, eyeshadows, earrings..)
I'm obsessed w/ lip products right now!
--------------------
Also, I just wanted to thank all of you guys for taking your time to vote in my poll!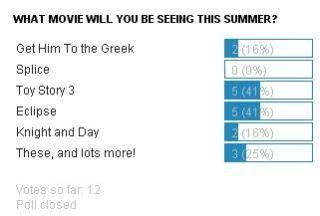 I like that none of you are interested in horror films like Splice! Ha ha... me neither. I went to see Knight and Day the other day - not too bad... wish it was a bit funnier but it was cute! And enjoyable. I kinda want to see Toy Story 3 - and as for Eclipse - I probably won't go to see it since I haven't even seen New Moon yet. But if I find people to come with me, I might. I am more a Harry Potter girl.
Speaking of which, I am re-reading Harry Potter and the Deathly Hallows. Such a good book!! I'm so into it. I can probably sit and read this book forever - I just can't put it down. It's been 4 years since I've read it and so I don't remember a lot so it is almost like reading a brand new book for me.
Speaking of which:
ONE WORD: GOOSEBUMPS!
Well guys, stay tune for more from me. I am planning to write a few new reviews!! Please vote on the new poll and...