So I wanted to talk about my favorite summer products right now.
Just so you know - it is
HOT
here. We reached 105 degrees today (I think) and it was torture!!!! I would walk outside and sweat would just be pouring down my face. My back is wet and even my butt - not a pretty sight!
But these are the things that I think really help me cope!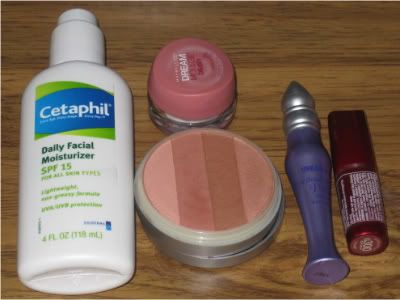 ** Cetaphil moisturizer: I mostly use this b/c it has SPF 15 UVA/UVB. Now, that is kinda a low SPF but I do spend most of my time indoors - I WILL NOT GO OUT THAT DOOR... that is a death wish! But if I go swimming or something, you betcha I will grab my mom's Shiseido sunscreen SPF 55. I just like this b/c it leaves my face feeling so smooth and fresh and having SPF protection everyday is just good sense.
** Maybelline Dream Mousse Blush in Rose Petal - I know I know I say I don't like the shimmer but I love love love the fact that it feels so light on my face! It gives me such a nice subtle glow against my tan skin and I just love using it.
** WnW Illuminating Powder in Spotlight Peach - I have stopped using bronzers completely. I feel like I'm way too tan now to use it but I feel like because it has the brown strip and the rosey strip that it makes a nice blush color for me - it is like a bronzer and a blush put together! I really like it. I can imagine people not liking this blush for the texture and pigmentation (not soft in texture which can lead to a lack in pigmentation) but I put this over the mousse blush and it stays on for a while and it calms the shimmer that is in the mousse blush. This is pretty much the cheeks I've been rocking for a week now.
** UDPP - CANNOT LIVE WITHOUT THIS for Summer, Spring, Winter, and Fall - I mean, I tried using eye shadow w/out this once and that was a horrible disaster! This is an amazing primer and I just can't wear anything on my lids without using this. This is especially great during the summer b/c of oily lids! Man, I love this stuff and def. would spend $17 for it.
** Maybelline Moisture Extreme Lipstick in Rosy Glow - The picture doesn't show Rosy Glow b/c I have it in my bag and it is downstairs... BUT I love the pretty pink color that it gives me. It makes my face look fresh and glowy! I just adore it. Plus, this is great for summer b/c it is moisturizing, it has SPF 15 *so important*, and it has pigmentation! And nothing screams SUMMER more than the scent of watermelon - yes, this smells like watermelon. Isn't that just adorable?
---------
So, now, I want to know what your summer must haves are!!! I know mine are kinda boring but I honestly haven't changed much in terms of using make up. I just am obsessed w/ my blush combo. I also haven't worn much foundation or concealer. And lips - either neutral pinks or bronzy colors. As far as eyeshadow - nothing has changed! I might actually be lazier to put eyeshadows on!! Ha ha.
---------
Also, I went to see Sex and the City 2 - and I really enjoyed it. It was long - 2.5 hours long! - but I thoroughly loved every moments. I couldn't help but notice how awesome Carrie's eyes looked during her *dinner* scene... NO SPOILERS HERE BUT YOU GUYS MIGHT KNOW WHICH DINNER SCENE I'M TALKING ABOUT. Oh and her dress was fabulous too!! Gotta say, all that glamor and style, makes me jealous. But in the end, the movie shows that it is just love and the relationships that you have that are really important. I love the friendships that the girls have and I think it is just wonderful.
I looked up the rating on IMDB and gotta say - it is LOW! I think that is probably because most people who rate on IMDB are guys - this is a pure GIRLY movie!! If you don't have estrogen in you, then you probably wouldn't like it. Ha ha.
Oh, to end this post, I will show you some pics of my vacation. I had a great time. I was on a cruise and it was pretty fun! I karaoke w/ a friend and learned to disco dance! However, after 4 days, I was glad to be off the boat.

* This was in Mexico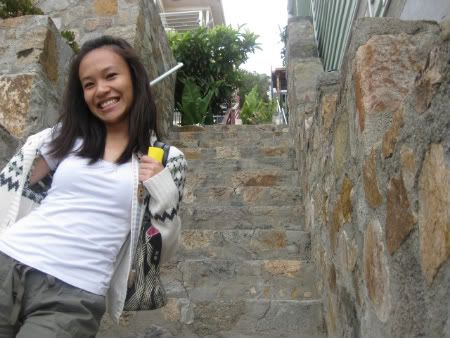 * This was in the Catalina Islands. It was really really cute and small and adorable and the hotels there are so cute and small and adorable.

K, guys, thanks for reading!!! Please do let me know your fav. summer products! Have a great night.