Items I recommend buying that are UNDER $3!!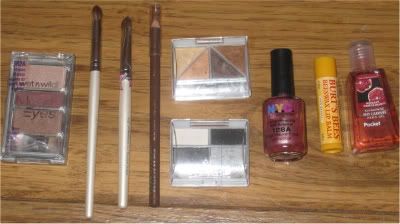 These are great items for people who are starting out with make up and need to just get started...
Why spend a fortune if you don't really know what you are doing yet?
** Names are not exactly correct... I just don't have the items w/ me but you guys got the picture right?
+ WnW Trio - Mojave Mauves (might not be sold anymore...). I use that trio a lot! A LOT for everyday look. Trust me, no matter what you do w/ it, you'll always get a nice natural-everyday look. Pigmented, easy to blend... very beginner friendly.
+ ELF $1 Eye brushes - amazing qualities. AMAZING for beginners.
+ WnW Eye Kohl Pencil - okay, I use this EVERYDAY to do my brows... and it works wonders! SO CHEAP - $0.99 CHEAP! Can't get any better than this.
+ ELF $1 Eyeshadow quad - These can produce great pigmentation and allow you to practice with colors and smokey eyes!
+ NYC nail polish - well, these are hit or miss. The one I have is in Mod Mauve and I really like it! Stays on a long time and hasn't gotten goopy on me yet!
+ Burts Bees - LIP BALM! Always a MUST MUST and this is my all time favorite. I've tried so many but I always always go back.
+ B&BW's hand sanitizer - You need a clean hand to apply make up and just in general - always good to have hand sanitizer in your purse. I love these b/c they smell great and usually they are 5 for $5 @ the store.
Items under $5!!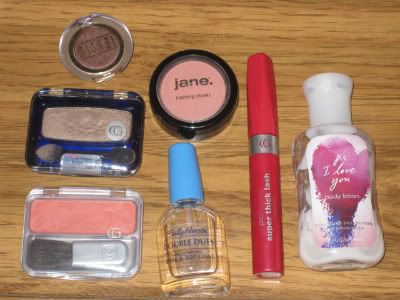 These are the items for you guys who want to find some nice cheap thrills!
+ Milani single shadows - you can buy these @
cherryculture
. AMAZING qualities and are known to be MAC-dupes.
+ CoverGirl single shadows - some are misses and some are HITS! People really like Tapestry Taupe, Brown Smolder, Mink, Shimmering Sands trio... it goes on and on
+ CoverGirl Cheekers - I enjoy these blushes! Some have insane pigmentation! But either way, these babies have strong lasting power and comes in so many different colors.
+ Jane Blushes - I have 2 - Blushing Petal and Blushing Plum. Both are great and simple and have perfect pigmentation! Blushing Petal is the color that is natural and easy to wear. Everyone needs a color like this.
+ Sally Hansen Double Duty Base Coat and Top Coat - this thing makes my nail polish stay on twice as long. It is amazing - seriously, go check this out. You would not be disappointed.
+ CoverGirl Professional Mascara - doesn't flake - gives nice volume and length. Very natural and yet it can build on itself to give you nice volumized lashes. A lot cheaper than Lash Blast but the applicator is not awkward to use!
+ B&BW's mini lotion - great to have in your purse! Smells nice! Moisturizing... a must have for emergencies!
Items for UNDER $10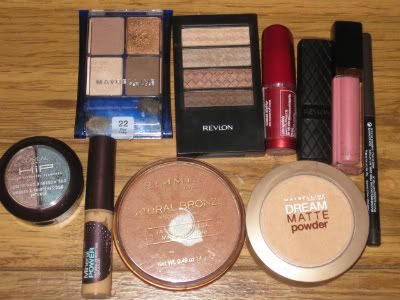 For those of you who are just looking for more fun with make up.
If you want to experiment with drugstores, here are some things that is worth your while!
+ Maybelline Quad in Chai Latte - Either you like it or you don't. At first, I was skeptical. I mean, what is it about this quad that I'm suppose to like? But, I really enjoy it! Great for everyday b/c the shadows are just so neutral and natural!
+ Revlon Quad in Coffee Bean - If you don't like Chai Latte, let me tell you that this is very similar... again, perfect for everyday look. Useful shades - pigmented and easy to blend!
+ Maybelline's Mineral Power Concealer - so light weight but covers so easily and flawlessly. Great for redness - under the eyes, around the nose, and other marks.
+ L'Oreal HiP Shadows - Sassy is in the picture but they have way more colors and selections. So pigmented and with so much variety of colors. Definitely a must-try for those beauty lovers. Also MAC-dupes worthy!
+ Mabelline's Moisture Extreme Lipstick - People love the ColorSensational but I still love these ones the most! SPF 15 is great. Smells great and pigmentation is lovely. I really enjoy these - especially for the moisturizing effect.
+ Revlon ColorBurst Lipstick - Colors are very unique and has a very good staying power. It feels so light on the lips and the packaging is to die for!
+ Revlon Super Lustrous Lipgloss - Okay, so it should come to no surprise that these lip glosses are amazing. I think these might be the best lip glosses that I have! Some are more sheer than others but overall, texture, smell, packaging, and color selections are superior!
+ Rimmel Natural Bronzer - Man, I cannot stop raving about this item. It's been in my make up drawer since the beginning and I find myself using it so much! Lovely matte bronzer for fair to medium skin tone.
+ Maybelline Dream Matte Powder - speaking of matte - this thing will keep your face oil-less and IS NOT CAKEY! I use this all the time as a setting powder. Works great for me even though I don't have oily skin. This is probably holy-grail materials to those who have to deal with oily skin during the day. Too bad you can't use this on oil-spill. I'm sure it would work ;p J/K.
+ Revlon Colorstay Eye Liner - stays on all day without smudging. It is just a really reliable item to have! Wish it was more smooth and creamy... but we all get used to things. It's all good.
Items for OVER $10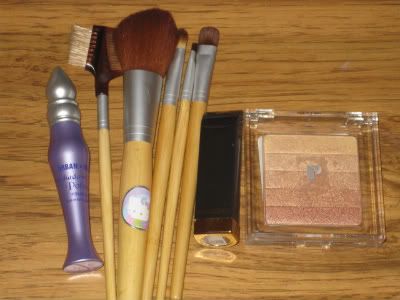 You guys know I don't like to spend too much on make up, but there are some things I really enjoy using;
A splurge once in a while - not so bad. Buy yourself some gifts - award yourself for being awesome!!
+ UDPP - I use to not like to wear eyeshadows. Not because I didn't know how to apply (that you can learn and practice...) but because it always look horrendous at the end of the day. It has changed now... my shadows stay looking nice all day and I never EVER have to worry about it! It's so reliable and such a great investment! $18
+ Ecotools 5pc Brush Set - BEST THING I'VE BOUGHT at the drugstore... NO JOKE! I have a use for every single item (except for the brush holder... b/c I lost that...) but AHHH!! SO SOFT! So useful!!! Make up beginners, you guys should look into this FIRST before you look at other brushes... because these will be the best drugstore brushes you'll find. $12
+ Lancome Lipsticks - The only "high-end" lipsticks that I've ever tried and these are really expensive... BUT I adore the packaging, love the pigmentation and texture and moisturize. Has SPF and it smells amazing! ha ha - it is definitely one of my favorite lipsticks. $25
+ Physicians Formula Shimmer Strips - Really fun to use as highlights and even eye shadows! If you are looking to have some summer glow or beachy bronze look - check these out! Very pigmented... it will not disappoint $12
---------------------
That's all I have... Sorry this post is extremely long! I was gonna make it into three parts but then I was like... nah - what's the point of that! Just give it all!
Thanks for reading!!