So I ran out of my Ponds Cold Cream moisturizer and I decided that I need to try something new.
So I decided that I should do reviews on the 2 moisturizers that I have tried out and tell you which one I rather preferred.
Let me just say that for a long time, I just used one moisturizer for morning and night but I hear that SPF isn't good for night time so I decided to search for something that would allow me to wake up and my skin feeling refreshed and renewed!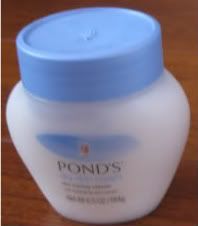 Ponds Dry Skin Cream
I'm sure you guys all have seen this somewhere in the drugstore. I first picked this up during the cold months of winter (January) and needed something to calm my dry skin. After looking at MUA reviews and looking at the prices, I thought it would be best to start out with this. This cost me around $5 and lasted me for more than a year!
This definitely is hydrating! OH YES, I love that during the winter, this was the thing that allow me to have nice and smooth skin. Mind you, I still had to use a morning moisturizer but it really helped. Also, after washing my face at night, my face would get that dry feeling too so this really helped with that. Also, a little goes a long way. I never need to use a lot and yet it works great anyways. HOWEVER, using this moisturizer during the summer was a BIG MISTAKE! Right now, I don't have an oily T-zone like I did last summer... and I think it might be because I stopped using Ponds. This moisturizer added shine to my face and I thought to myself - can't use this during the summer! But I kept using it because I just wanted it to be done. So I would say that it leaves an oily residue when I used it in the summer.
I mean, I think this is a really good moisturizer to start out with. I also used this to get rid of my eye makeup and it works really well. Plus, using this around the eyes isn't so bad because of the extra moisture. This has mineral oil, which can clog pores and make faces oily. I didn't notice my pores being clogged or anything and I didn't break out from this but I did notice the oiliness - for sure. So I only recommend this to you - and it would work pretty well too - if you have insanely dry skin and need some inexpensive relief. If you have oily skin... I would stay far far away.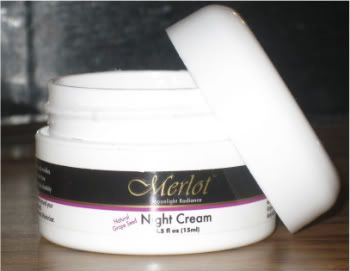 Merlot's Night Cream
So this next one I got because I saw a few youtube vids about it and thought - WHY NOT? I like the idea that they have a sample size available for purchase and so I picked that one up. Now I don't really see this being sold anywhere else besides CVS so that might a problem.
Okay, so I do have quite a bit to say about this. First off, it is made from natural grape seed which is great because that has antioxidants and it has avocado oil in this which I think is great for hydration and has Vit E (please correct me if I'm wrong). So by looking at that, it seems pretty great so far.
Texture is interesting... it isn't creamy like the Ponds. It is between a cream and a gel... so that's kinda cool. Fairly easy to smooth across the face and doesn't leave an oily residue. It soaks into the skin quickly and you feel kinda a cool sensation once applied.
BIG DOWNFALL is that once it soaks into the skin, my skin sorta feels dry again. So what I'm saying is that I feel like I didn't even put any moisturizer on my skin once it is all absorbed. STRANGE huh? Also, I feel like I need to use WAY more to get a decent hydrated feel - very different from PONDS. That is the downfall of this product - if you use a sufficient amount, you will get a good amount of moisture in your skin. But that amount my mean a lot of product which means you will go through this pretty fast. This sample size is 0.5 fl oz and it lasted me 2.5 months (plus my sister was using it too) so that is kinda a bummer.
BUT I think this is a great moisturizer for the summer when it is hot and you don't want anything to add shine to your face! One thing that the product claims is that it promotes better skin tone - and I think I can see a bit of a difference! And that is really neat. Besides the usual monthly break outs, I think I have really enjoyed my skin tone and the clarity of my skin. I don't know if I can give this moisturizer all the credits but for a while, this product was the only thing that changed in my skin care routine.
Perhaps since the formula is so light and easy to absorbed, my skin can breathe better and pores are not being clogged and such. Because of this, I feel like I will repurchase this (even get the bigger size which is $14). I'd recommend this to anyone really - but if you're skin is always dry, it might take more product for you to feel satisfied. But if you have oily skin, this will work so well for you since it won't add to your oily skin at all.
I hope this wasn't too wordy or anything for you guys.
Do let me know if you have tried any of these products before...
Or better yet, let me know which moisturizer I should get for the upcoming cold season!