Why?
Because CVS and Walgreens - even Ulta and a bit of Target and Walmart - are having huge sales to clear out stuff for their new merchandise! You know what that means? Beauty CLEARANCE SALE!
As far as I know - this is still going on - and so I want to quickly review a product that I got a week ago and urge you guys to take advantage of this awesome deal.
What I'm talking about is: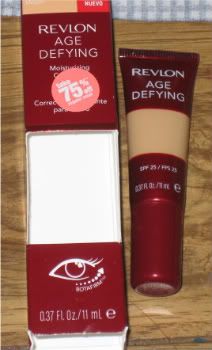 Revlon Age Defying Moisturizing Concealer
My shade is Medium -- and check out the 75% Off!!
So I'm not gonna go into major details but I always think that a picture can say a thousand words so - here are some pics of this baby doing its thing.

before



after
So?? What do you think?
The texture, I would describe this, as more liquid than cream. I was SURPRISED to see how pigmented this is considering it is a liquid concealer. It comes on SOOO light and it feels light but it covers so well!!! And a little bit goes a long way! I just squeeze out a tiny bit (like less than pea size... like a droplet) and I was able to use that for my eyes and other redness/spots on my face!
Easy to blend and the shade works quite well for me.
The most amazing thing about this is that it is hydrating and it doesn't get cakey! It doesn't settle into lines because of how moisturizing it is! This is the aspect that I love the most!
I guess the only bad thing is I don't think it has strong lasting power. I would say 4-5 hours would be the max!
I remember almost purchasing this for it's full price $10 but I got it for $2.50... sooooo.....
Yeah, don't walk - run to your closest CVS and fingers crossed that it is still on sale.