I'm sorry I have to do this but I'm always excited about "dupes"... and UNFORTUNATELY... this product is a limited edition product. However, I saw this quad at Walgreens last week still so who knows... maybe there are still some laying around.
I'm talking about Wet N' Wild's palette in Sugar Plum Fairy - the Holiday limited edition. But I'm also talking about a certain dupe... and this one is kinda awesome so to those girls who own the palette... you can be sure that you have dupe of MAC's Trax in your hands.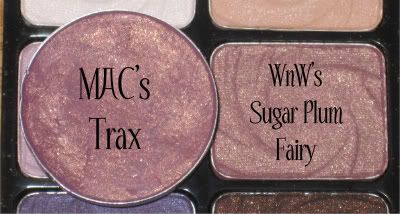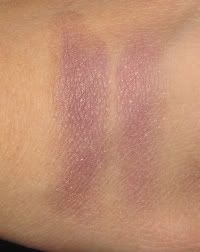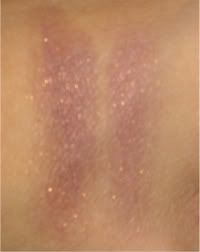 L, MAC || R, WnW
The last pic is kind of blurry but it is to show the golden glittery shimmer that makes this color very awesome and unique. Let me just say that MAC's Trax might look a little bit darker and more cooled tone but that just might be because I layered it too much. I put a few layers on Trax while the WnW shadow is only 2 swipes... so if I'd built WnW shadow more, it might even be the same.
As you can see, it is not a perfect dupe but the WnW shadow still has that gorgeous golden shimmer and the color goes on so beautifully! You can actually make this look very natural just because both colors can come off neutral but then you can dress it up more to make it look very dramatic. Trax has a bit more cool undertone... I still say - pretty darn close match!!
My first dupe! I'm excited... I'm just sad that you guys might have a hard time finding it... sorry! I just recently got this palette as a swap so I couldn't have done this sooner if even if I wanted to.

♥ Hmm finally know what I want - too bad it is impossible to get!
♥ Swatching eye shadow is kinda messy - not gonna lie!
♥ Yay weekend is almost here! I can taste it.
♥ I wish I had time to read actual book. It's been too long. And I was too lazy to do Xmas break.
♥ I know summer is not coming for another 4-5 months but... I've already figured out what I want to do + back up plans and everything - I cannot wait!
♥ The weather here has been fantastic! I know in some parts of the country, it is snowing and storming, here, it has been in the 70's F* and I've been sitting outside and everything!