I don't meant to jump on the bandwagon but I absolutely love reading these posts so hopefully this will be fun for you guys too.
1) Best Products for $1

ELF's $1 Eyeshadow primer
: Yes, this stuff is amazing - not as good as UDPP but perfect for everyday!
Wet n' Wild's Coloricon brow & eye liner in Taupe
: This is a product I used almost everyday for 7 months straight. Love this stuff - just ran out so I had to buy a new one. My brows look so great and it costs 0.99 cents. Seriously, if you guys are looking for a cheap brow pencil - try it out - not gonna cost you an arm or a leg. It might even be your HG!
2) Best Eye Shadow Products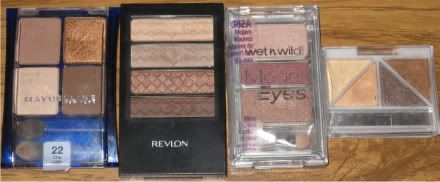 The first two -
Maybelline's quad in Chai Latte and Revlon's quad in Coffee Bean
- are two of my favorites "office/school" friendly palettes. These are my everyday palette and I tend reach for these A LOT! Right now, I like the Revlon one over the Maybelline one but in 2010 - I used them both equally. I recommend you guys checking these quads out - especially if you are on a drugstore budget and want a good everyday look.
Wet N Wild's trio in Mojave Mauves
has been good to me but I only realized how much I loved it when I would use it CONSTANTLY during my trips. I would make a few palettes with me but one that I reach for every time I actually do my make up is this trio. Why? Because the colors are shimmery and they give nice washes on the face. They are also EXTREMELY pigmented and are so easy to work with and apply. I frickin love it! This is discontinued but I went to Walgreens the other day and saw new 2011 trios that are released... and OH MAN!!! They look so awesome!!! WnW makes some really great shadows - don't doubt the brand b/c of their price/packaging.
ELF's Butternut
quad was my first eyeshadow and probably one of the best purchases a beginner would ever need. Besides the peachy shade, the quad is GREAT! Especially for $1... really good. I still use this all the time and the bronzy shade is awesome for summer.
3) Favorite Product Line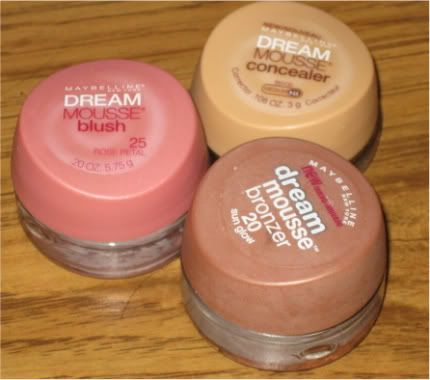 The
Maybelline's Dream Mousse line
is one of my favorites. I LOVE LOVE the texture and they are also very good products. I wrote most of my thoughts in that post but his might be the first line that I really enjoyed every single product I own! I still want to try the foundation... although I've heard mixed reviews.
4) Favorite Lip Products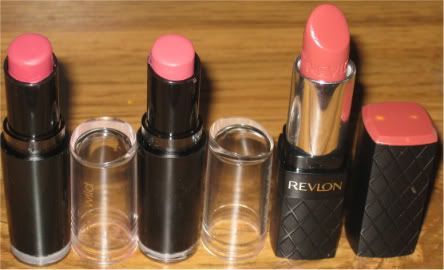 Wet N Wild's Megalast lippies
(I like WnW... they have a good year!!) has the best color payoff ever. So bright and bold! Really gorgeous - I love how these colors really brighten up the face. This isn't as creamy or moisturizing as I'd like but they are long lasting and great purchases for $2.99 each.
Revlon's Colorburst lipstick
is FANTASTIC!!!! When I first got it, I didn't enjoy it as much as I thought I would but after using it for awhile - I fell in love!! Ha ha... yes, this is awesome for Spring time!
5) Favorite Rediscovered Products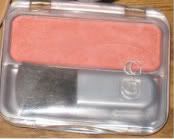 CoverGirl's Cheekers blush in Perfect Peach
- one of my oldest blushes EVER! And for some reason, I have been using this product for most of Fall and still now. I don't know why - it gives me a really nice, natural flush! And it stays on quite well when in conjunction with creme blushes.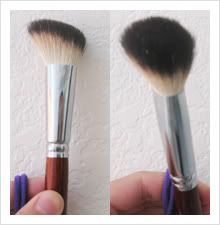 Coastal Scents's Italian Angled Blush Brush
was also rediscovered especially since the CG Cheeker is a bit strangely packaged. But I find I get better control applying my blush this way.
6) Least Used Products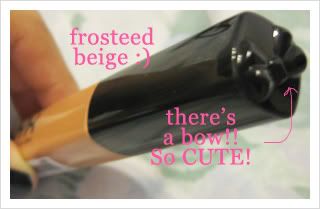 I don't want to say NYX products because I think the quality is good but I have pretty much swapped for most of my NYX stuff. I don't own any jumbo pencils anymore - not because they are crap but because I just don't use them. Also I have gotten rid of my Round Lipsticks in Thalia and Circe and the Diamond lipgloss. The picture above is the megashine lipgloss in Frosteed Beige. I kinda hate this product because it started to leak and made a mess... the only ones I still like are the single shadows. Those are still awesome. However, I still want to try their mosaic and creme blushes.
---------------------------
This is all I have for now. One of my favorite things from 2010 is the lack of purchases I made and the fact that I wore make up almost everyday!!! Yes, to use up these items instead of buying more. Very awesome. I will have to do another post on products I've finished!
What about you guys? What are some of your 2010 favorites?