I just want to talk about my two favorite eye shadow quads for the moment. Actually, one of them has been one of my favorites for a LONG time and so....
Let's cut the suspense...
My two fav. eye shadow quads currently are...
Oh okay, don't be surprised that they are both neutral colors...
Because I LOVE neutral colors...
By now you've probably scrolled down and ignore my rambling...
I suggest you do that if you haven't already :D
-----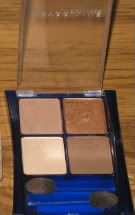 Maybelline Chai Latte
- What makes it so special? It has pigmented matte colors! As you know, it is hard to find drugstore eyeshadows that are just matte and are pigmented. I think it is hard to find matte eyeshadows in general b/c even Urban Decay and Stila, a lot of their shadows are frosty or shimmery or whatever. Anyways, I use that dark color for my eyebrows every day! And sometimes I use the brow and the lid colors. I haven't used the gold much these days but trust me - that baby is PIGMENTED~ Oh and the texture is smooth~ Like the sea! That doesn't make sense but I was thinking smooth sailing. ANYWAYS - it is soft and not like the 'hard-won't budge from pan'. Now, the pigmentation on the lid and brow could be better but I don't really mind them.
But just b/c these shadows are neutral/natural colors doesn't mean you can't go dramatic w/ them. I tried it out and I don't hate it... ha ha: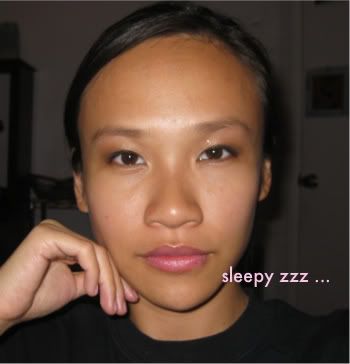 -----

Eye Brightening Quad in Butternut
What makes it special? The colors are LOVELY!!! I love all of them except for the skin color one - that one sucks. BUT EVERYTHING ELSE IS AWESOME! So pigmented. The texture is not as good as the other but HELLO - it's a $1 (+shipping ;p). Anyways, w/ a good base - or even a mediocre base (L'oreal Decrease) - it'll stay on all day. Here's my dramatic version of this: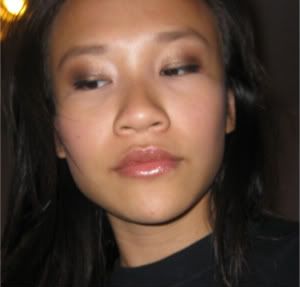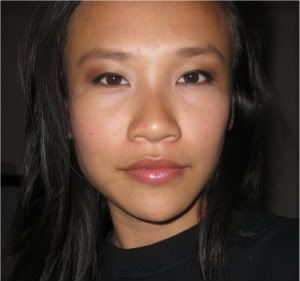 What I used:
-----
I've been using Chai Latte all week and I used the copper color from Butternut yesterday. I really like both of these!
What are your current favorite eyeshadows?