What am I talking about?? Well my lovely readers :D, I'm talking about the fact that I got glasses!! Yay!! Sorta yay. My mom says she likes me better w/out it but what do you guys think: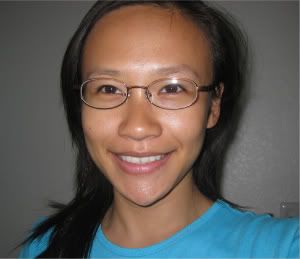 Yay or nay? Yeah, I don't have any make up on - just a bit of mascara actually but you can't really tell in this pic.
Anyways - let's talk... review. If I'm stuck on a desert island, I will always, always, ALWAYS bring this item: LIP BALM or CHAPSTICK. Whatever.
I've used quite a few different ones and I just want to talk about them:
1) Carmex!
** One of my first chapsticks ever. My mom used to buy it for me all the time.
My rating: 3/5



Thoughts: Um, it's been awhile since I've used this but this was a weird one for me. I loved it and used it for a few years and then it just stopped working for me. I always have it in this tube form and after awhile it just got weird in the tube... I think. I also don't like the smell or the taste. I appreciate the tingly feel (I like it b/c it lets me know it's working). I also don't like that it is thick and gooey. It does help me heal my chapped and dry lips though. This thing works but I guess I've found better chapsticks.

2) Softlips SPF15 (Strawberry flavor/scent)
** I found this at Biglots one day for $1 each. I bought 2 :)
Rating: 3/5



Thoughts: I like the fact that it has an SPF 15 b/c lips are just sensitive - especially against the sun. Although the packing is sleek and different, I'd prefer if it is a big bigger - I mean, bigger radius. W/ a product that has a bigger radius, I can just swipe, swipe, swipe carelessly and would be able to cover my entire lips. With Softlips, I have to work more. Not a big deal to some but when your lips are so chapped and they are DYING to get some healing done - yeah... you get the idea. Overall - it does heal my chapped lips and soothes it. I feel tinglies but not in a good way - my lips sometimes feel like it's... burning - not so bad but it doesn't feel comfortable. Could be b/c of the SPF. I also don't like the smell or the taste. I know a lot of people love Softlips for the scent but I don't like it at all. And the texture of it is 'runny'. Feels like a gloss when you rub your lips together. It doesn't absorb into the skin and thus making it kinda a bad moisturizer to use before using lipsticks. I might buy it though since I think it's pretty cheap at Walmart - $1.77.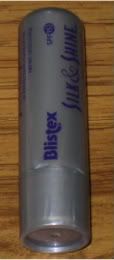 3) Blistex - Silk & Shine SPF15
Rating: 4/5




Thoughts: This one is um... 3.5 to 4 out of 5 actually. Sometimes I love it and then sometimes I hate it. Like Softlips - I like that it has SPF15 and also like Softlips, I get that weird burning sensation also. But it smells better and it doesn't taste weird. And it has a bigger radius and also it isn't as runny <<-- but it still is. Although packaging is not as pretty and it is kinda bulky at times. I don't know how I feel about the silky and shine idea. It does have 'light reflecting particles' so it is kinda shiny. Okay, I think the reason why I don't like it that much is that I have to put a lot of this stuff on before I feel it is working. The healing power on this isn't the best. Softlips is only a little better. I live in the desert - I need good chapsticks! I think 4/5 is generous since I don't think I would repurchase. I might try other Blistex but not this specific one.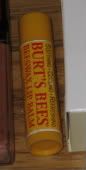 4) Burt's Bees
** Last but def. my favorite
Rating: 5/5 *cupcake award*





Thoughts: The only thing I wish it had was some SPF but that's pretty much it. I love the texture, the minty smell/taste, the fact that it really helps w/ my chapped lips! It works like a CHARM! The only thing is that it's more expensive than the other ones - around $3-4 so eh. I always go to TJ Maxx and there's always awesome deals on Burts Bees. Anyways, I didn't write a lot here b/c well, there's really nothing much to say except I really really really like this chapstick! Keep up the good work Burts Bees :D
** Oh wait - I hate that because I take this everywhere - I always tend to loose it -or at least I think I loose it. Mostly I just forgot it in the car or something.
---
Also honorable mentions for moisturizing lippies:
- Maybelline Moisture Extreme lipsticks - SPF15 also
- L'Oreal Juice Stick - discont
- Revlon Super Lustrous Lipgloss
- CO BIGELOW Mentha Lip Tint
Speaking of TJ Maxx - I love browsing through their beauty stuff MORE than their clothing stuff. I love that I can find so many things for cheap!
Besides my Burts Bees stuff, I saw some cheap Biosilk, Nexxus, Nars lipglosses (yeah! Didn't buy it though), the brand H20, and lots more. Definitely check it out.
So that's it for now. I'm at work - trying to do Physics homework but is failing at it
:)
:/.
ToOdles!