Man, this week is a bit crazy... school starting and all. But I have a little bit of time now to talk about....
Revlon's Nail Polish in
Midnight Affair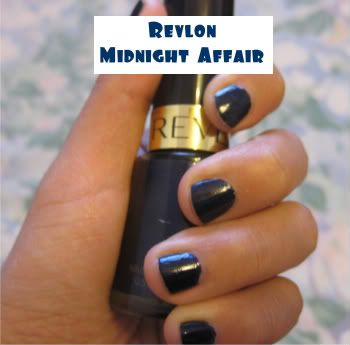 ** I have short nails b/c I play the piano
** Pic taken a few days after application
Brush: 3.5/5 - Kinda skinny so it takes a few strokes to get the entire nail which then leads to streaking. Wish it was a least a bit fluffier and not as stiff.
Polish Consistency: 5/5 - It's not too runny and it isn't too thick. I really like it. It took 2 coats to look awesome but one coat would've been fine - although you might still be able to see some streaking.
Drying Time: 4.5/5 - This thing dries... I guess the normal time. Revlon doesn't claim for it to dry fast so why think it. But it isn't something... like say ELF... where it takes FOREVER!
Color: 5/5 - I first bought this when I went to a Coldplay concert. I know, they're not hard core or anything but I really wanted to dress the part of a rock concert! Color is really dark - looks black from far away but it's really dark navy. It is a gorgeous color though :) It looks a bit dull after awhile but initially it had pretty flecks of glitter. Overall, I really like it.
Color selection: 5/5 - Revlon has an awesome collection of colors! I'm really interested in trying others.
Staying Power: 4/5 - Stayed for 4 days w/out base but w/ top coat. I hate taking this off though because it really takes FOREVER for my nail polish to get to it! Annoying as hell. It faded a bit and chipped only a little bit after 4 days.
Overall: 4.5/5 - Yeah, like I said, Revlon has a lot of awesome color selection and I really like the consistency of this polish. It is great and cheap - esp. w/ BOGO - so I really suggest people to buy some REVLON :D
That's all for now. School sucks! Ha ha... just had to say it.
Thanks for reading,
ToOdles~