So, my make up collection is growing. Actually, scratch that - it's not really a collection. I don't buy stuff just to have it. I really buy stuff because I think I could really use it. And I have a drawer full of make up. I would say 35% of it is blush! Blush blush blush! No matter what, I just keep buying it even though I know it is impossible for me to use them all up! But I don't swap my blushes away either! I don't know. I just really love BLUSH! It is an essential thing for me to have for my daily make up routine. So I'll share w/ you by beautiful babies.
1) The PINKS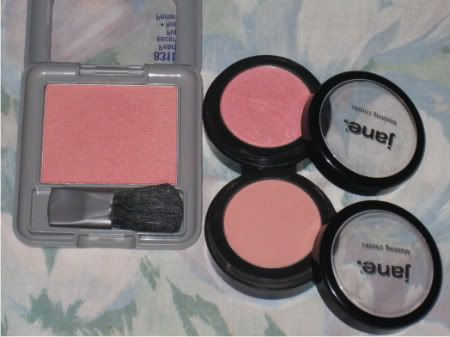 - WnW's Pearlescence Pink: I love this (some say it is a Nars Orgasm dupe) but it has the golden glitter that makes me not want to wear it for everyday.
- Jane's Blushing Petal and Blushing Plum: amazing blushes! So cheap and so wearable for everday :D
2) The CORALS/PEACH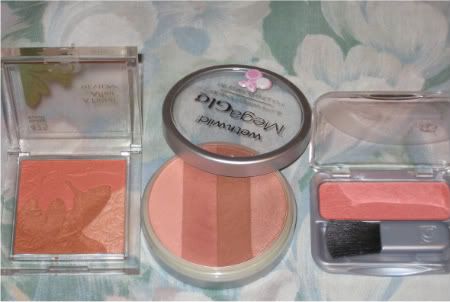 - Revlon's Honey Bunch: one reason I don't swatch for this is the packaging. It looks so pretty! And though I barely use this (I don't know why... b/c I love the color) I'm planning to keep this til the end!
- WnW's Spotlight Peach: one of my favorite blushes! I wrote a review and even place it as a product spotlight. Yes, I adore this baby. Oh, and you get 9 grams! DANG!
- CoverGirl's Pretty Peach: I think that's the name. One of my first blushes I ever bought for myself. It is so pretty although I wish it was a bit more pigmented on my skin.
** - Maybelline's Mineral Powder Blush in True Peach II: recently got it and very pretty - although I hate using mineral powder things.
3) The MISC Colors
- Revlon's Rose Petal: I think that's the name. It's kinda a mauvy-pink color. Another blush that I got since the beginning. I like it although it as a bit of a sheen to it. I use to apply it w/ a scratchy brush that it came w/... oh good old times :)
- CoverGirl's Deep Rose: Perfect color for the winter - when I'm all pale and stuff. It is like an apple red color. Very pigmented! Weird smell though - that goes for all the CG cheekers blush.
- NYX's Terracota: Adore this color! Peachy, corally, bronzy, but goes on a really really natural pink! LOVE IT! I believe this is my most expensive blush at $6-7. Yeah, most of my blushes I got on sale :D The only thing about this blush is that it isn't matte so there is a bit of a problem when it comes to wearing it everday. But I do love this color!
** - Milani's Luminous: Been wanting this for awhile but finally swapped for it! Yay. It's pretty good so far. Kinda has the same problems as my NYX.
4) Finally, Cream Blushes!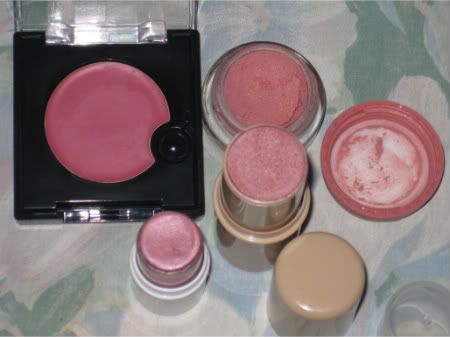 - Maybelline's Mousse Blush in Rose Petal: I really like this blush!! I love it but it has golden specs in it and so I can't wear it everyday because people will def. ask why my face is sparkly! But I love it nonetheless.
- Revlon's Berry Flirtatious: I like this cream blush - very pigmented and has great potential to last awhile. Not the biggest fan w/ the color but it will have to do for now. Best part is - it's MATTE! BUT it is hard to blend!
- Jane's Blushstix in Shimmering Pink: Not too shimmery. Smells bad - hey, I already did a review for this so I don't really want to repeat myself.
- E.L.F's Colorstick in Pink Lemonade: Smells bad. Kinda have the same shimmer as the Jane one. Def. not my favorite! Still usable though.
That's all I have. Well, it's a lot! But yeah. I tell you I love blushes! This leads to my announcement of: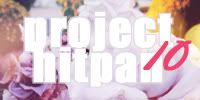 I've decided to do a 10 Pan Project or whatever the order of the words are suppose to be. Can you see the words in the pic? On this computer, I can't see it at all!
So far:
+ Neutrogena Ance Stress Control Cleanser
+ Burts Bee's Lip balm (my 2nd or 3rd tube I think)
My hope is to hit pan on one of these blushes! I hate for them to go to waste.
Well, that's all for now.
ToOdles!