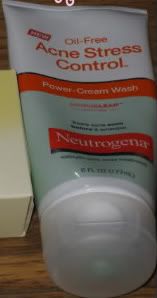 When a make up review site asks if "I'd repurchase" a certain item - I always put YES if I really like it. Truth is, I probably won't because I'm always out searching for the next best thing. However, these are the things that I feel like it would definitely repurchase or have already repurchased multiple times.
1)
DOVE Soap
- My dermatologist have recommended this to me when I had a skin problem and I love it. Really keeps my body hydrated and I feel good using it. Some soap are just bad and it gets all gross looking (especially if you use a bar soap which I do b/c it is cheaper ;p) but DOVE doesn't. I've switched up the scent a bit but I do wish they'd make more scents - like coconut or mango scent or something. I've been getting into those fruity scents lately.
2)
Neutrogena Acne Stress Control Cleanser
- This stuff WORKS ON ME!! Guess what my mother said the other day to me: Wow, you're on your period and your face is still really clear. Must be all the healthy food I've been making you. And I shook my head and burst her bubble - no mom, it is the cheapo $6 cleanser that I bought from the drugstore (she doesn't believe in drugstore make up... she's always using Lancome and Shisiedo). So HAH! I made my sister use it and it works on her. I recommended it to our family friend's daughter and she says it's working. Read my review for more of my thoughts. I'm running out of this and YES I WILL REPURCHASE!
3)
Burt Bee's Lip Balm
- I got introduced to this because I ran out of my previous lip balm (Carmex) and my roommate decided to let me use hers and I was like... YES! I love this stuff! It doesn't feel 'runny' like other chapsticks do. It is firm and stays put! Love the minty taste (helps your bad breath sometimes too xD). It gives me great moisture and helps heals my lips. I also get that tingly feeling which makes me think it's working. I wish that it has SPF and that it would cost a little less. Other than that - I've repurchased this before and I'm thinking of doing it again. Maybe even the shimmer ones :) Oh yes - my wild side.
4)
Revlon Super Lustrous Lip Gloss
- I find that it is kinda pointless for me to wear lip products during a school day or work or whatever because I don't really do touch ups and my lip stuff just disappears anyway. But when I do find the time to reapply my lip product, I'd always reach for this lip gloss. I added this on here because I just wanted an actual make up product that I love - and these are definitely my favorite lip glosses! My lips can be sensitive and if the product isn't right, it'll feel weird and I get a strange feeling on my lips. This doesn't do that at all nor is it goopy and thick. No, this is a great lip gloss! I love it. I know I'll repurchase and I'm already thinking of getting more colors :)