Anyone watched Arrested Development?? Well, there's this character, Tobias, who can never be nude and he wears these cut-off shorts in the shower or whenever so he doesn't have to be nude... because he is a never-nude. It's hilarious. I just wanted to bring that up so I can talk about this thing that I found underneath my giant stash of lip sticks/lip glosses: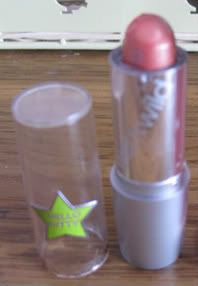 Yeah... It's my Wet n Wild lip stick in 516C Sunset Peach. It's actually a pretty frosty pale pink on my lips.
Thing is when I first got it, my mom hated the frosty look - and yeah, I did a bit too. But recently I've been wearing it just lightly and using my finger to blend out the color a bit and I think it looks great! Kinda a light nude-lilac-pink color. I really like it :) I tend to buy darker lip colors so this really helps me to achieve my nude look w/out looking wash out or whatever.
- I don't need to use gloss.
- It is moisturizing! Love it. My lips are sensitive so this is awesome.
- It's like $1... I think. But it's cheap and it works great.
- So if you ever need to try a new lipstick or something, I really like this.
- Be aware that color on the bottom of the tube is COMPLETELY OPPOSITE from the actual color of the lip stick.
- The color choices I get at my Walgreens are not the best. Maybe that's why I only have one.
Just another small review! Hope this helps anyone :)