So, I bought 3 things from the Jane Aguaceutical line and I want to do a bit of a review. First of all, Jane is not discontinued - only at Walgreens. I still see their products at Ulta. Second, I love love love their $3 blushing blushes! I own two and I absolutely LOVE them! Third, these are my own experiences. I feel like these products are worth mentioning and therefore I want to talk about them but it doesn't mean what happens to me will happen to you.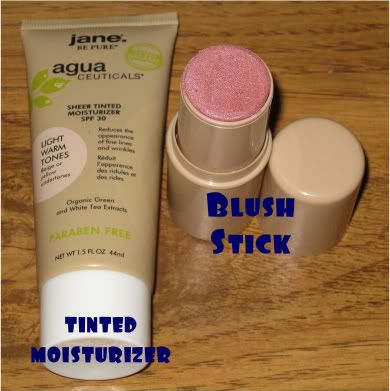 1) Agua ceuticals (I don't know if it is one word or not) Sheer Tinted Moisturizer SPF 30 in Light Warm Tones for beige or yellow undertones
FIRST THOUGHTS:
+ I want something not too heavy but definitely moisturizing for summer
+ Oooh, really healthy ingredients
+ BOGO! YES! :D
PROS:
+ Claims to have natural organic ingredients
+ no parabens (which is really good)
+ SPF 30 is awesome
+ Gives light coverage so it can cover up some redness and discoloration
CONS:
+ Thick formulation - doesn't feel like a moisturizer should
+ Not moisturizing (excuse me! When I buy a tinted
moisturizer
, I obviously want some moisture in my skin... right?? NOPE).
+ Feels tacky - I can feel this on my skin once I've applied it.
+ Smells funky!
+ When I wash my face w/ my cleanser and I feel like everything is gone - I lick my lips and I taste bitterness... what is up w/ that?
+ I usually squeeze this on my hand and when I'm working on putting the stuff on, I notice the border of the moisturizer turned ORANGE
+ It started clumping into groups on my face
FINAL THOUGHTS: 2.5/5
Okay so I hated the product. Strangely, the first time I used it (and the second and the third), I didn't hate it. I thought - hey, nice coverage... wish it had more moisturizing feel though. But as time goes on, I start to hate it. I don't know, I feel like it is just me and that it could work on other people. Overall though, I don't like this tinted moisturizer at all. Although I don't say - BUY AT YOUR OWN RISK - I say - try it out but keep the receipt!
2) Blushstix in Shimmering Pink
FIRST THOUGHTS:
+ Yikes - don't like shimmery blushes
+ But I want to try more cream blushes
+ BOGO... why not
PROS:
+ Actually has color :D Not just shimmer!
+ Shimmer is not so bad!
+ It is totally wearable by my standard
CONS:
+ Hard to blend - texture sucks
+ Probably can't last without a powder blush on top
+ Smells bad
FINAL THOUGHTS: 3.5/5
I don't hate it but it's not something I MUST HAVE, you know. The color is okay and I think that is the problem - the color. Not my favorite. I don't think I would repurchase but, again, I don't hate it! I really think it is the color but there were 3 color choices... I thought pink would be the safest.
3) Mousse Eyeshadow in Sandstorm
FIRST THOUGHTS:
+ Could be a good eyeshadow base
+ Color looks awesome
+ Walgreens on sale! YES xD!
PROS:
+ Lovely color
+ Mousse texture - I love mousse texture
CONS:
+ Blends out to little or no color but just shimmer
+ I hear this can cause irritations to eyes...
+ Not that great for shadow bases
FINAL THOUGHTS: 2/5
Let me just say I love the color and texture but hated to use it :) It looked so nice when swatched on my hands but then it just didn't work out xp. Oh well.
In conclusion - this line is a MISS for me so far. If you guys have any inputs or anything to say, please comment! I would love to hear your experiences.
Thank you for reading,
have a lovely day :D