Okay, so Saturday, I checked up on my youtube subscriptions and found that
Xteeener
's give away contest/prizes. I thought they were such cool stuff that I decided to make my own commercial and send it in. Hopefully I'll win something. Ha ha, totally amateur stuff but I had soooo much fun!
This is the product: Victoria's Secret Refreshing Body Spray in Love Spell and Pure Seduction.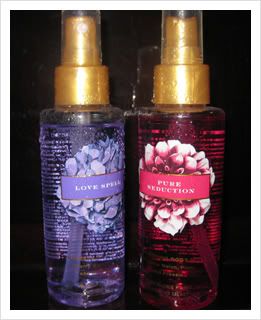 I made my sister help ;p.
Also, when doing that, I came up w/ this look and decided to show everyone:
No eye make up at all. The thing that made this look is:
- Wet n' Wild MegaGlo Spotlight Peach
- Revlon's Lustrous lipstick in Wink for Pink
- Revlon's Super Lustrous lipgloss in Pink Whisper
Hope you guys enjoy~