MASCARA TIME!! So currently own 4 but I've tried a bunch of different kinds. The thing w/ me is that when I'm done w/ a product - even if I loved it, I'd still want to see more of what is out there.
The ones I own right now are: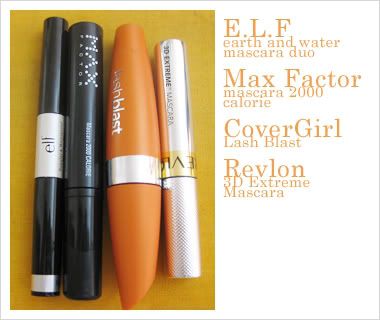 What the wand/brush looks like:
So what do I think of them??
E.L.F
Earth and Water Mascara duo:
PROS:
- Good with lengthening
- You get TWO mascaras for $1
- Not clumpy
- Last almost 10 hours w/out flaking
- Holds curls
- Also when you nap w/ this on, it won't make like a residue under your eyes (you ladies know what I'm talking about!)
CONS:
- The wand is not have defined bristles so it can't comb your lashes
- Doesn't really give volume
- Nothing more but the wand really annoys me sometimes
OVERALL: 3.5/5
PRICING: $1 @
E.L.F
But if you want a decent mascara for $1, this is the one to go for.
I'm quite happy with it: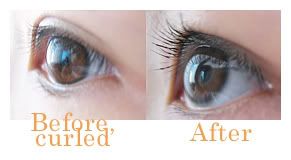 CoverGirl
Lash Blast: Okay, so anyone who's into makeup, if you don't own it, then at least you've heard about it. This is my second tube... crazy eh? So there'sn ot much else to say.
PROS:
- No flaking for at least 12 hrs
- LENGTH BABY!
- No clumping until the tube gets dry (which this tube can last a while until it is dry, 3-4 months. For me anyways)
CONS:
- Gigantic brush. I can't get to my inner lashes and difficulty getting my bottom lashes. Also, I think I hurt myself a few times just cause the brush is so weird.
- Not so much volume as I would like
OVERALL: 4/5
PRICING: ~$7-8
MAX FACTOR
2000 Calorie Mascara: Okay, so this is my LOVE!!!
PROS:
- Lenghthens and Volumizes (WHAT?? YES!!)
- Lovely brush - good bristles to seperate my lashes and can get to all my lashes
- IT'S $4 at Walmart. Yeah, that's why I got it in the first place.
- No clumping, no flaking, no making any mess
CONS:
- Um... I dunno.
OVERALL: 5/5 Wins the CUPCAKE AWARD Yay!





PRICING: ~4 at Walmart (I don't know about other places but just go to Walmart)
REVLON
3D Mascara
PROS:
- The idea of a small brush
- The packaging is cute...
CONS:
- EVERYTHING!!! AHHH!! Why didn't I do my research to know I should've bought this??
- Clumpy, flaky, doesn't hold curls, makes my lashes heavier
- Even though the brush is small and it's nice for my small asian eyes, it just doesn't help my lashes at all
OVERALL: A disaster; I give it a 0.5/5 for effort but don't waste your money on this.

Other mascaras that I've tried:
Clinique Mascara - which I don't think they have it anymore because it was pretty clumpy and flaky and overall, just not worth it.
Rimmel's Volume Flash Mascara
: I remember it was too thick for me. The brush didn't seperate my lashes too well and it was clumpy and flaky. I think I'd rate it as 2.5/5
Maybelline's Great Lash® Washable Mascara
: Although it seperates and lenghthens my lashes well - it sucks at giving volume. The brush is small (which is nice) but it is similar to the E.L.F's brush so it can't get to my lashes well. Also, my skin had an allergic reaction to this mascara. A little bit thin on the formula. 3/5.
Hope this helps some of you in choosing a good cheap drugstore mascara.