This is pretty much a contest entry for
Emilynoel83's
Prom contest. I think the deadline is tomorrow!
So, here is my attempt. I'm having a hard time just taking pictures of eye make up and stuff so this is what I have.
The special thing about it is that the eye make up is $1!! W00t!! Yeah, that's right. And really simple too, using another $1 item: the crease brush from E.L.F
Enough w/ the babbling, here is what I came up w/...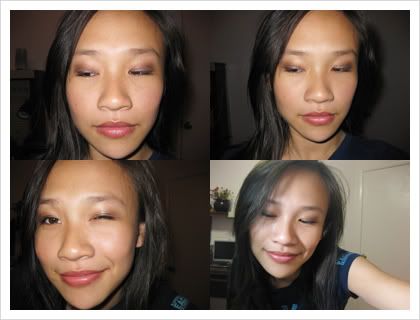 What I used: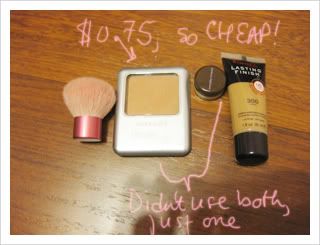 *
Moohaha, you can see my shadows... I don't know why I said Moohaha... ahh, weird rambling!!
- Rimmel's Lasting Finish Foundation
- Set w/ either EDM foundation or Wet n' Wild Pressed Powder
- Pink Kabuki brush from Coastal Scents
Fo the colors~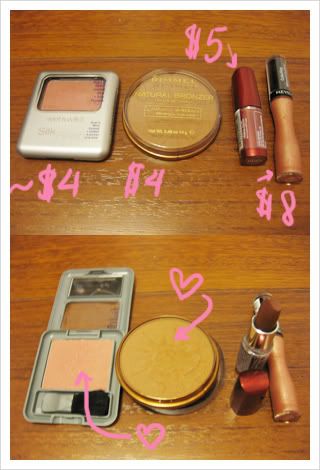 - Rimmel's Natural Bronzer in Sunlight
- Wet n' Wild's Silk Finish blush in Pearlescent Pink
- Maybelline's Moisture Extreme Lipstick in Rum Raisin
- Revlon's Colorstay Mineralize Lipglaze in Everlasting Blush
Misc. Stuffies... or stuff I forgot to take pics of... xD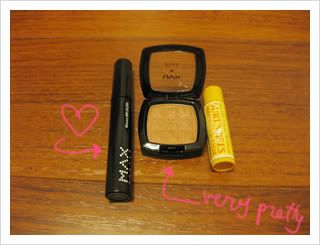 - Max Factor 2000 Calorie Mascara~!
- NYX blush in Terracota (as a highlight... if you want)
- Burt's Bees Lipbalm
Okay, now here comes the BIG STUFF... saved the best for last!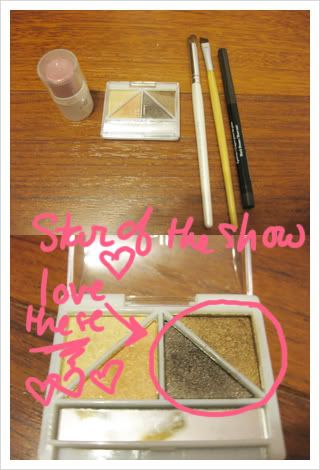 - $1 E.L.F Brightening Eye Color quad in Butternut (kick tons of buttocks!)
- $1 E.L.F Coverstick (for a base... it works even tho it's pink... but use a better base if you have any)
- $1 E.L.F Eye crease brush
- Ecotools eyeliner brush
- Revlon's colorstay eyeliner in black/brown
D*&N that's a lot of stuff!! My goodness. Well, it is for a special occasion right?? YES! So dress up. Have fun. Be glamorous and stuff~ Spend money on dress and shoes and leave the make up to the drugstore!
BTW. I'm tagging this as FOTD - just cause it's a look...