COASTAL SCENTS!!!
. I purchased some
Coastal Scents
brushes a few weeks ago and wanted to try them out first before writing/reviewing on them.
First of all, I just want to say that their shipping/customer service is awesome. The only thing is that they need to do something about their site b/c it looks kinda - well not really professional. Besides that, I love how they allow you to choose your own shipping method. So instead of paying $6 for FedEx, I paid $3 for USPS. But if you really need your stuff FAST, you can get like overnight shipping or something crazy like that. I ordered my stuff on Tuesday and got it on Friday (or maybe Saturday)!! Anyways, I absolutely love it.
Here are the products that I got: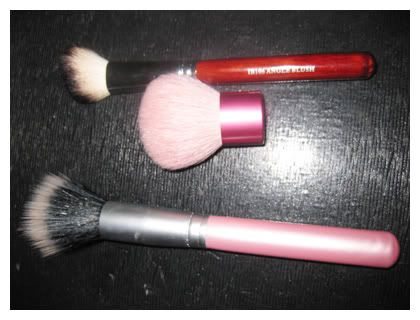 The
Pink Kabuki Brush
for $4.99,
Italian Badger Angle Blush Brush
for $6.99, and
Pink Duo Fiber Powder Stippler Brush
for $7.49.
So here is what I think...
1)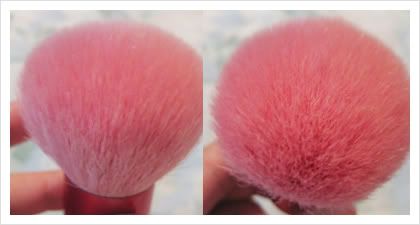 PROS
: IT IS SO FLUFFY!!! Look how dense that baby is. Oh yeah, it is HUGE! It also doesn't shed or have pink dye come off when I wash it. Doesn't smell funky anymore. Very good at putting powder on!
CONS
: Not as soft as a cat's fur or something but it's not scratchy either.
Overall
:




- 4/5 cupcakes~
2)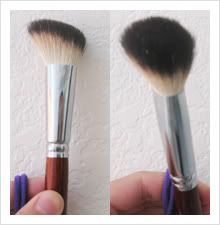 PROS
: It looks very fancy - nice shiny wood handle :) Picks up good amount of product and blends well. SHEDS a little - only a little and no dye problem w/ this either.
CONS
: The only thing I hate and it is a big thing is that it isn't as soft as would've liked. It isn't SCRATCHY!! It's just not soft. I don't like to blend much with this brush because it's not very soft.
Overall
: Even though I do love this product,



- 3/5 ;_;
Finally,
3)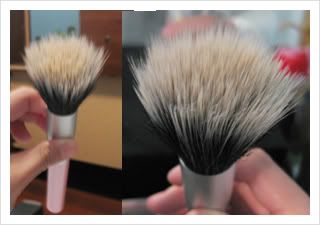 PROS
: SOFT AS A CLOUD. I got it b/c its denser than the black one. Barely sheds. Definitely gives nice stippling effect. Sheer colors of blush.
CONS
: It's kida flimsy when you blend... like the bottom isn't as stiff as you would want it to. I get dye coming off when I wash it.
Overall
: This is a strange one... and I don't know how I feel about it yet. I still need to use it more to see if I like putting on foundation the normal way better or if I like putting on blush w/ another brush. For now, I say:




- 4/5
Sorry if you find my cupcakes weird. I found them on a website and couldn't resist using them for something.
So, in conclusion, I say that I'm not in love with any of these brushes. I find them useful but not something that I would be extremely excited about. So, if you want some cheap brushes that works well, this is defintely something to look for.
------------
These are my wish list for my next order (yes, I still really like this company)
- Their hot pan eyeshadows
-
Gel liners
in 24K, Deep Plum, Maroon, Indigo Blue, and True Black
Also, I'm looking into pressing and making my own palettes (DIY stuff) so I might get some of their:
-
Pressing Medium
and eye shadow pans
So many things I want!! But I'm pretty good w/ brushes right now... well, I might get a blush brush... we'll see~
Until next time! Have fun shopping and bargaining and cutting coupons!