This is gonna a pretty simple post about my latest obsessions - products that I continuously use even though I have a drawer full of products wanting some love too!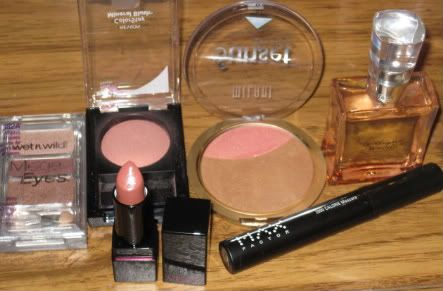 From LEFT to RIGHT:
1)
Wet n Wild Trio in Mojave Mauves
- you know what guys? I don't even think they sell this anymore - which is a big BUMMER because this is my GO TO TRIO! UGH! This will probably last me forever but I want you guys to be able to enjoy it too. Seriously, Wet n Wild doesn't get enough credit for making some of the best eye shadows in the drugstore. Yeah, it beats Maybelline and Revlon in texture and pigmentation! I'd recommend people to run to the store NOW because I'm pretty sure there is a sale/deal going on with their products this week.
2)
Revlon Colorstay Mineral Blush - Rose Petal
- One of my first blushes EVER - my mom bought it for me from Fry's. Yeah, how weird. I didn't like this blush at first because I thought the pigmentation was a bit weird. I now use it w/ my ELF's powder brush and I love the glow it gives me. I used it constantly for a few weeks now. LOVE IT!
3)
Victoria's Secret Very Sexy Lipstick - Sweet Nothing
- Okay, this is definitely my GO TO nude pink color. This reminds me a bit of NYX's Thalia or even Rimmel's Airy Fairy. Unlike those two, this lipstick doesn't have that weird lavender undertone and looks very nice and natural on my lips. I absolutely adore it. I wish it was a bit more moisturizing but I pretty much love the color - definitely hard to find and one of a kind.
4)
Milani's Sunset Duos in Sunset City
- This is my bronzer right now. It is not completely matte so it gives off a bit of a glow but nothing too dramatic! Nothing like weird and glittery at all. I love using bronzers, in general, because it warms up my face and really helps the entire look. This is my current favorite since it is darker and works better with my tanner skin now.
5)
Max Factor 2000 Calorie
- This is such a cool mascara because it gives me natural and dramatic lashes. For everyday use, I put on a light coat of this and it does such a great job of separating my lashes and adding good volume and length to it. When I want drama, I put on my Shiseido primer first and then this mascara - WOW! Are those my lashes? Wow they are FAT - like they just ate 2000 calorie worth of food! Like they had an entire Big Mac and a pizza! With extra cheese and pepperoni! Okay, I'm just going on about stupid things now. But seriously, very upset that this is no longer sold in America. This is my 2nd tube and I love love love it.
6)
Bath and Body Works's Eau De Toilette in Twilight Woods
- fantastic smell - no PHENOMENAL smell. It smells so sweet and so lovely and so nice and peaceful. Yeah, I'm in love with this smell and I'm sure many are too. This is definitely a popular scent amongst the BBW community. I use this everyday because I like to smell sweet and beautiful!
That's pretty much what I've been reaching for these past weeks. How about you? Do you guys get into the mood when you just use the same things over and over again or do you try to switch it up everyday. For me, having to do my make up quickly, I always prefer to just stick with what works! However, I do tend to switch up my shadows though - since I have so
frickin many
! Ha ha.