So about a year and a half ago, when I just got into make up, I only had a few shadows here and there. My love for eye shadows really increased when I finally purchased an eye primer - UDPP. The problem with me and eye shadows have always been the creasing so UDPP really helped my shadows stay all day and stop looking horrible.
But the biggest problem with me and shadows is still blending and working with the colors. That is still something I must keep practicing! However, you can't practice much if you don't have a lot of eye shadows to play with. This is pretty much my collection... I have quite a lot. I wouldn't say as much as some of you out there, but definitely more than my friends combine!! Luckily, I'm a cheapie and so these are all fairly inexpensive items.
Without further ado: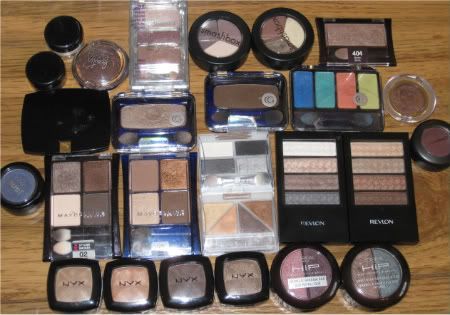 Notice how there is almost two of everything???
I think I will start with the left top corner...
ROW 1:
- I have 2 sample MAC pigments: Vanilla and another brown color... never knew the name.
- Victoria's Secret baked shadow in Expresso Lane
- Wet n Wild's Trio in Mojave Mauves
- Two Smashbox shadows: Photo shoot and Test Shoot
- Maybelline single in Beach Blush
ROW 2:
- Lancome quad that my mom gave me.
- 2 Cover Girl singles in Tapestry Taupe and Brown Smolder
- 1 Cover Girl quad in Tropical Fusion (my first palette EVER)
- Milani's single in Java Bean - if only I could find more of them in the store!
- MAC's single in Sketch.
ROW 3:
- Jane's single in Midnight
- 2 Maybelline quads in Neutral Smokes and Chai Latte
- 2 ELF quads in Drama and Butternut
- 2 Revlon quads in Nude Element and Coffee Bean
ROW 4:
- 4 NYX singles in Taupe, Champagne, Root Beer, and Iced Mocha (lots of drinks here... except for Taupe though)
- 2 L'Oreal HiP duos in Sculpted and Sassy
Then, I have the cream shadows and eye primers and what-nots!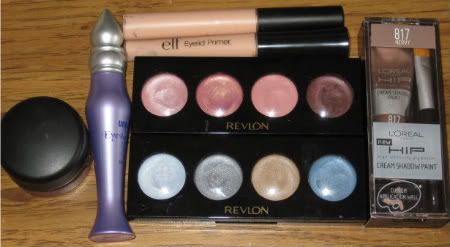 From L-R
- MAC's paint pot in Rubenesque
- Urban Decay Primer Potion
- ELF's Mineral Eye Primer and the $1 one
- 2 Revlon's Illuminance Cream Shadows in Pink Petals and Coastal Blues
- HiP's Cream Shadow Paint in Nervy
But if I had to recommend a few, I would definitely narrow down to these four: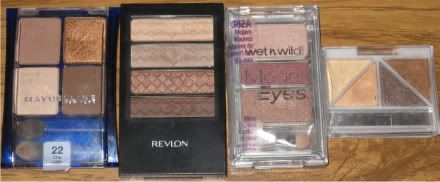 1) Chai Latte is so easy to use. The texture is nice and smooth and you can wear this for an everyday look or a really nice glamorous look (because of that pretty metallic coppery shade). I'd say pick this up if you have been debating about it. It's totally worth it!
2) Coffee Bean is a perfect quad if you work in an office and you have to wear the most natural look ever. The colors are pretty and pigmented. You have a lot of good options with this quad. I definitely struggle between which one I like more - Chai Latte or Coffee Bean... but I think I'm going with Chai Latte... for now. Funny because I'm drinking more Chai Lattes lately than coffee too.
3) Wet and Wild Mojave Mauve is like my vacation trio. I take this with me on my vacation and I will NEVER EVER be disappointed with it. I always bring several eye shadows but this always work on me... it is so pigmented - easy to blend. And it isn't your typical boring neutrals. This has a gorgeous taupe, a nice maroon, and most of all, that lovely lightest shade... it's like a creamy lilac. I don't know, I absolutely LOVE LOVE LOVE it. I recommend this to everyone and their mothers.
4) Butternut from ELF is something I recommend to people who are just starting out. At $1, this quad will help you learn what your style is and you can practice and practice with it until you get better. I don't like the idea of going out and getting something expensive if you don't even know what you are doing. Besides that, I enjoy the colors! That dark brown and the lightest shade are my favorites. Together they can make some nice smokey eyes!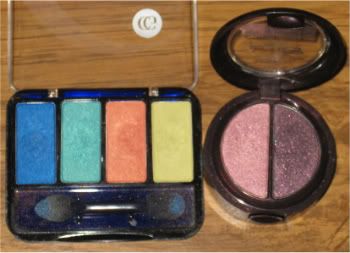 As for colors, I really enjoy these two quads. The CG's Tropic Fusion was my first shadow palette ever... which isn't a good thing for beginners... ha ha. But I love using the colors (mostly the blue and green) to line my eyes. It makes the look more interesting. And the HiP's duo in Sculpted has the prettiest pink color and pretty purple. It can change the typical look into something more fun and girly!
I hope you enjoy this post. Please let me know what your favorite/recommendation is! I am always up for trying something new.