Okay, so last week (or a last last week... can't remember) I asked:
Which of these female artists do you like to be for one day?
Lady Gaga - 5 votes (41%)
Alicia Keys and Gwen Stefani - 2 votes (26%) (each)
Katy Perry, Rihanna, and Beyonce - 1 vote (8%)
In my opinion, all of these females are fantastic. Right now, their careers are bright hot and it seems like nothing is stopping them. I think they all portray female sexuality in good and positive manners. I guess we can all debate about that, but honestly, these females show strong characteristics and aren't afraid to show off what they've got.
Anyways, my favorite person is definitely Alicia Keys though. She has such a soulful voice and so musically talented on the piano. her songs are always really deep, meaningful, and relate-able (is that a real word?). She is well respected in what she does and she doesn't come with tabloids or drama either. I also love her style and also - the fact that she is smarty (got into college at like 16 or 17!) is pretty awesome. If i can be anyone mentioned above, I think Alicia Keys has got it all.
So, I was watching her latest video and I decided to do a look inspired by her: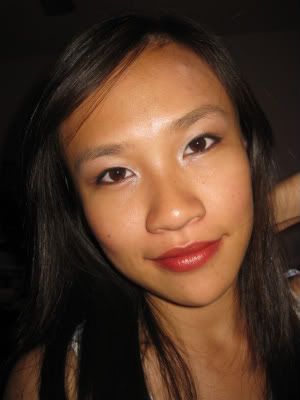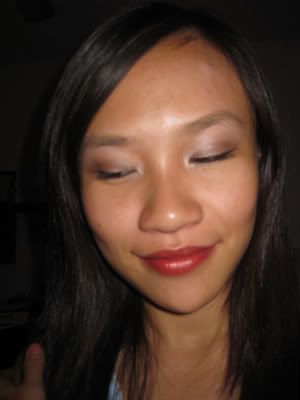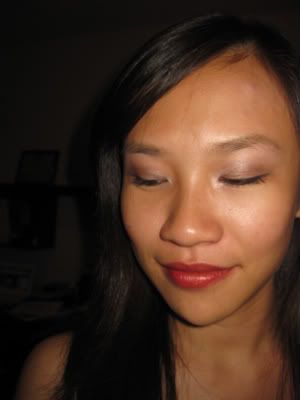 On my lips:


NYX's Round lipstick in Apollo

I used CG's Tapestry Taupe all over the lids because I wanted a taupe that is really shimmery and reflective. I deepened my crease a bit with CG's Brown Smolder but not too much because her eyes are quite understated here. I lined my waterline (which I never do0 and then do a dark upper lash liner with ELF's drama quad. There is a really shimmering white shade in the Smashbox trio that I used for highlight and inner corner and then I just added a bit more color to the look using the more purple Smashbox trio.
**
AngelicBB
asked if I liked the CG shadows - I have to say that I do. I think the only thing that people complain most about is the texture. It is true that CG shadows might not be the softest or has the best texture but I think the pigmentation of the ones I have are great. I love Tapestry Taupe for those days when I just want a nice lid color - and that's all. And because it is so light reflecting, it really brightens up my eyes and my make up in general. Brown Smolder is definitely pigmented! The texture is a lot better than Tapestry Taupe and it is a matte shade. This is a fantastic color to have if you don't have something like this already. A nice, matte, easy to blend shade like this is so easy to work with and very versatile. I think these are great products to have and try out - especially if you are just starting out with eye shadows and make up. I really want to try out Mink and Forever Fig (I think is the name). They are both neutrals... but I love love my neutrals! I think since I only have 2 CG singles that I can't make a full review... but I think this is pretty accurate of how I feel.
Overall I enjoy the look. I think it is soft and feminine enough for like a date night or something... but the red lips definitely bring the sultry back in!!
Thanks for reading and commenting! I love seeing new commenters - makes my day. And ask me any questions and requests... I will definitely try to get back to you.