I think eye primers are truly important and I think I would pay $18 to have a great shadow primer that helps with minimal creasing and fading throughout the day. I think that creasing is the worst when it comes to wearing eye shadow. It's like a nasty little line that draws all the attention to your eyes and scream: "Look at me... I'm GROSS!".
This is actually one of the reasons why I didn't wear shadows until I finally bought the UDPP. Then I got the TFSI to
compare
. But a month or two ago, I went to Target and found
ANOTHER primer
for $1! And I thought to myself - I need need need to do a comparison! I mean, $18 for a great primer that keeps your look fresh is pretty awesome. But if a $1 product can do the same thing... WELL... I might as well save that $17 and go buy myself a nice dinner or something!
Well, without further ado: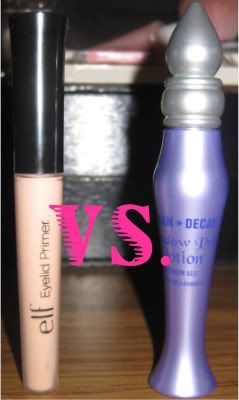 Yes, you've guessed it - I'm talking about UDPP vs. ELF $1 primer!
So, I bought the EFL primer on July 20th and it is now September 25! So I have been testing this out for 2 months now. This primer was definitely put to the test since I live in 100* F weather all summer and even til now it is still in the late 90s* F.
What I have been doing is wearing the ELF primer on the right eye and the UDPP on the other. When I'm lazy, I just wear the ELF primer. And at one point, I even switched - wearing the ELF primer on the left eye while UDPP is on my right. Note that I wearing eye shadows about 3-4 times a week on average.
Yeah, I really wanted to be thorough!
So these are pretty much my opinions - I'm being totally honest. I'm just stating what I noticed while using these products and it is really up to you guys to make the decision whether to buy the high-end primer to stick to a cheaper alternative.Packaging
: Well, obviously the UDPP one is cooler and more intricate while the ELF one is pretty simple. I mean, that is one thing you should expect from ELF is that their packaging is not amazing! But that doesn't mean that the quality is horrible. In ELF's case, you shouldn't judge the "book by its cover!". Both are wand applicators and both are pretty much the same. I think the ELF one is fluffier - doesn't bother me and shouldn't really bother anyone, really.
The good thing about the ELF's packaging is that you can see all the products that you have. With the UDPP's packaging, you have to deal with the whole depotting thing... which doesn't sound too appealing. Plus, if you have to depot - the ELF one is obviously the easier to do.
Quantity:
ELF: 0.17 fl oz for $1; UDPP: 0.34 fl oz for $18 --> 0.01 fl oz for $1 (please let me know if my math is wrong!).
Quality:
So this is the part you guys actually want to read right? Yeah, well I have to lay out a background, don't I?

Texture: I think that UDPP's texture is better. It is creamier and therefore easier to blend out. The ELF one is a bit runnier so when I apply too much (and since it is so cheap, I don't mind applying a bit more than UDPP), it gets a bit messy to blend into my skin. Which brings me to the next point is UDPP blends into my skin way easier - not to say that the ELF doesn't. It just takes a bit more blending to get it to set. Still, it's not really something I'd complain about. I just wish that all the primers in the world has UDPP's texture - nice and creamy. If you guys recall, I feel that TFSI's texture is runnier as well.
Here's the important thing to note
: ELF primer isn't invisible when it dries like the UDPP. I think it leaves a
light beigy cast
on the skin. Sometimes if I'm not careful and I apply too much, the blending is a bit messy and I can see the cast that the primer makes. It's kinda hard to explain but just know that it
doesn't dry to a clear finish
.

Creasing: This is when the ELF one really impressed me. Every time I wear ELF on one lid and UDPP on the other, the creasing is pretty much the same on both lids. Never was there an incident when one product showed creasing while the other didn't. So either I get creasing on both eyes or no creasing at all - which is really nice!

Fading: Now, when it comes to fading, the ELF primer couldn't really beat UDPP. However, I would say that ELF effectiveness is 85% of UDPP's when it comes to fading. That's not bad, especially when you just want to wear an easy color all over the lids for everyday look.

Color Improvement: Hmm... well, I think picture speaks louder than words.

Covergirl's quad in Tropical Fusion; the green color
As you can see, UDPP does a much better job of making a color more bright and vibrant. ELF primer helps a little bit but nothing compare! It is definitely better than having NO primer at all though.
Again, this is fine for me since I don't want such strong colors on my lids for school. But if I go out and I want a more dramatic look - I'd go to UDPP to get a more vibrant color.
My opinion:
I think that for $1, ELF is a fantastic and a must in any make up collection! WHY? Because for an everyday look, this is perfect. It will help with creasing and fading and will keep your eye look nice and neutral. Only when I go out, do I want to use UDPP to make sure my shadows don't crease and remain bold throughout the night. I think that if the ELF primer can help the colors to be more vibrant, Urban Decay would be out of business. Then again, some people are bothered by the packaging. Yeah, the ELF one looks cheaper but I think the quality is fantastic!
I think I will keep repurchasing it because I think it is great for everyday looks. And I sometimes use a cream shadow base underneath and it really helps promote the color of my shadow.
I still love my UDPP and will continue to use it - but I will save it for the more special occasions!
I hope you guys enjoyed this review! I think it is a bit long but eh... just wanted to be detailed.