So I posted that I got the Milani Sunset Duos a while back and I thought of doing a review on the product. But since I'm inspired by the Olympics, I shall compare two products side by side...
Who will win GOLD???
Keep reading to find out ;P
So, this is the product I just mentioned:
Got it for 75% at CVS a month ago.
This is me, wearing the duo + some highlighter, also from Milani called Glimmer Stripes in Honey Glimmer.
What do I think? I think I absolutely LOVE LOVE LOVE the bronzer. It is such a nice color when it comes to perking up your complexion a bit. Not too overwhelming and not shimmery either. I do notice a sort of light reflect but not so much that my face is shiny. No, this is a really great bronzer. The only complaint I have is the pigmentation, but it really isn't a complaint really. This bronzer is not the most pigmented (which is really beneficial for fair skin ladies) so I do have to build it up little by little. But since this is bronzer and no one wants to look like their just got hit in the face with faker tanner, less pigmentation is good and safe to use.
Now the blush is really pretty. However, I don't think it shows up on me as well as I hope. It is shimmery which I think looks nice in conjunction w/ the highlighter. BUT I really wish this blush goes on me a little better. Even so, I love this blush and I think when the eyes are really smoked out, it is nice to have a lighter shade of blush so the face doesn't look like a clown.
So, what I think of this duo??? I think it is fantastic! Definitely something I'd look into repurchasing.
----------------->>>
So, how does it compare to my ELF blush and bronzer duo??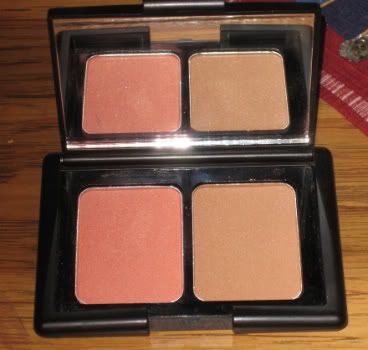 I would say this is a really really close race!! And it is something that I'm, the judge and the consumer, is still debating about. Trust me, I've watched the replay vid over and over again just to make the call... but I can't do it.
I did a review on this before and I said this was the BEST buy of January! I say that this has the better blush! The blush in this is gorgeous on me and other people too. The only qualm is the bronzer being a bit darker than I would like but, again, really isn't a complaint because it looks fine on me.
** As you can see, Milani has the lighter bronzer and blush; and the blush is more shimmery and I would say more peachy.
** ELF on the other hand has the darker colors; the blush isn't as shimmery and it is more pinky but definitely has the peachy undertone.
----------------->>>
So there you have it. I guess to summarize it all, I would recommend BOTH :) But I think if you are fairer than me, I'd look into the Sunset duos first. The bronzers there are lighter and easier to work with. Of course, ELF is online and Milani can be found at drugstores... although Milani's been getting rarer and harder to find. Still, you can purchase this duo and other duos at
Cherry Culture
.
The rest of the look: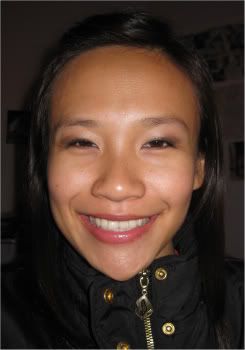 Thanks for reading!!
Oh and thanks so much for all the kind words!!!! I LOVE YOU GUYS!