So my Spring Break is starting next week... 14th-19th but I am starting it early. GUESS where I'm going???
GUESS....
YES!! You totally read my mind:
HAWAII!!!!
WOO HOO!!!
So, of course, this week, I can't concentrate in class AT ALL!!! And I also just couldn't have enough concentration to write a new post. But, I need your opinion!
These are the stuff that I'm planning on bringing: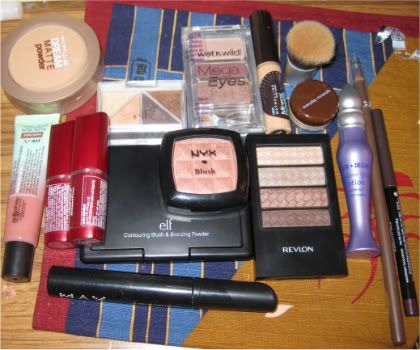 Foundation:
- Maybelline's Mineral Power concealer
- EDM's Semi-matte foundation in Winged Butter + brush
- Maybelline's Dream Matte Powder
HELP: I don't know what to do w/ my moisturizer! One of them is in one of those bottle pump thingy (Cetaphil) and I'm afraid it will squirt all over the place. Oh and obviously I will bring sun screen!
Lips:
- Maybelline's Moisture Extreme in Rosy Glow and Rum Raisin
HELP: Anything else?? I will def. bring chapstick! FOR SURE. I'm also thinking of getting the Palladio Herbal Tinted Lip Balms too.
Eyes:
- ELF quad in Butternut
- WnW trio in Mojave Mauves
- Revlon quad in Coffee Beans
- Revlon eyeliner
- Max Factor 2000 Mascara
- WnW's Brow pencil in taupe (really good! Very natural looking :D)
- UDPP (OR TSFI??)
HELP: Anything from drugstore that will help me achieve a nice beachy look when I'm just going out?
Face:
- ELF's blush/bronzer duo
- NYX Terracota
HELP: Anything else?????
So as you can see, I tried to keep things minimal. Nothing too much because it will only be a week! But I also just want to look awesome when we aren't hiking, or going to the beach.
---------------------------
ALSO:
PLEASE PLEASE PLEASE tell me - what should my friends and I do when we are there? We will be in Kauai???
---------------------------
I also want to end this post w/ a quick review and proposal:
So I grabbed this Revlon's Pearle single shadow in Brushed Copper: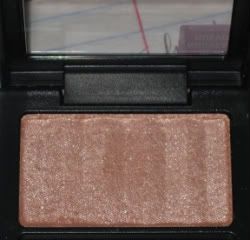 Texture is great, color has decent pigmentation. And the color is really really pretty - great for a nice lid shade. I think it will really open up people's eyes and really brightens them.
BUT - it has glitter!!!!!!!
While these glitter are not big chunks and will not fall off your face, it does have glitter. And I DESPISE glitter!!! Note though - it is only in the PERLE finish that has these
micro
glitter. I'm so mad, I should've gotten the satin finish. I've always always liked satin finishes more but this color just called out to me from the walls of the Revlon display and I had to get it. But alas, I am a bit disappointed w/ my choice.
Don't get me wrong, I think this is just a personal choice. I just don't like glitter, no matter how small it is. I know some people are completely fine with it and I feel like some people could really enjoy it :)
So, I have a proposal - does anyone want this to try out?? I have only used it 2x and just don't like the glitter. I can't do swatches because it is such a light color but it is like a champagne, pinky, w/ peachy and goldeny undertones. I don't know...
If you guys are interested, please let me know. This could be like a contest or something.
- Just leave me a message and I will mail it to you... no charge! Please also put down your email address and I'll contact you there.
HOW'S THAT???
That's awesome!!!
I have a philosophy in make up (and possibly life... but not really) - why keep things that you never will use again. Why hoard it like a crazy person when someone out there can enjoy it more than you?
And I shall leave you with that. BYE BYE.