So, in the last FOTD, a lot of people mentioned how nice my skin is... let me tell you... it is FAR from perfect!
Actually, my left cheek has no acne scars or pimples really but my right cheek... AHH!! Crazy redness and acne scars all over the place.
The most annoying thing about redness and acne scar is that it makes blush looks kinda weird and not as pretty as it could be. And you all know, I LOVE BLUSH! So I really try to reduce my flaws as much as possible.
Lately, I sorta returned to my Everyday Minerals. I've never ordered full size from them but I've gotten the free kit (from back in the day... the system now is very odd and I don't like it as much). I tried Everyday Minerals because I've heard so many people talk about the awesome coverage. I saw NO COVERAGE or light coverage when I first started... but that was because I was using the WRONG tool!! Turns out, you need a nice dense brush to have a decent cover. DUH! You say. Well, I was new at make up and plus a nice, soft, dense brush is hard to find when you are on a budget.
Well, turns out, I ordered the small kabuki brush w/ my order but never used it because it was so small. Thing is, I don't need to use it all over my face, just my cheek area! So, I decided to try this. Check it out: Beware of NAKED CHEEK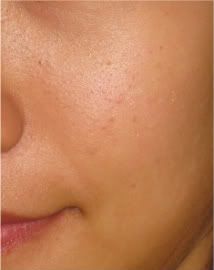 After application of EDM: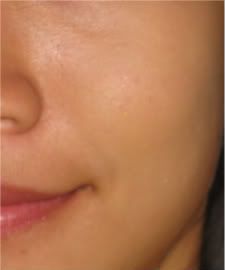 Now before you guys rejoice at this and decide to order your own mineral make up, there are a few things I want to say - and I shall do it best w/ my PRO/CON list :D
PRO
:
- Nice coverage! Great at reducing redness and even out skin tone.
- Easy to apply, blends so nicely!
- The brush is amazingly soft
- Kinda a quick thing to do in the morning (for me anyways; some say liquid is faster but this might be b/c I don't have my exact foundation match for liquid yet)
- The colors above (Golden Medium, left, and Winged Butter, right) are great matches! Perfect matches actually
- No shine but not completely matte either - unless you get the matte finish formula
CON
:
- Not long lasting (I have not tried this w/ a primer though...) but it lasts 3-4 hours... maybe 5.
- Can be cakey as most powder foundation are
- Can be drying (like above... but I don't think it emphasizes dry spots which is nice)
- You do need to build this up - unfortunately, it is not just put on your face and go! I def. have to build this up!
- Brush is too small - only good for spot treatment.
So, please consider these pro/cons. This has not break me out... but some people do break out from that.
Another annoying thing is that EDM is not as inexpensive as it used to be. Sad huh!! It used to be sooo affordable. But it is def. more affordable than Bare Minerals (or whatever).
** It is hard to find a good foundation. Some people will go through life never finding their HG!! I know, tragic!!! Just kidding :) But a good way to have a look of good skin is to have actual good skin!! So, drink more water, wash face before bed (salicylic acid or benzoic acid), moisturize, SUN SCREEN people!!!!, and let your skin breathe. Sometimes the make up you are wearing is what causes the blemishes!! Just a few tips.
Okay, so it is late... and so I'm gonna go to sleep now.
BTW - anyone is reading/has read "Love in Time of Cholera" by Gabriel Marquez Garcia??? I've only read the first 1/3 of it... but it is a great book!!! I like it thus far... but I can tell great tragedies and sadness will happen.