Wow - it's only 1:40 pm and already so much has happened! Nothing good... I would say but it is these times when I'm sad or lonely or whatever, I go on my blog and write my thoughts away and I feel better :)
And it is always so nice to see comments from all of you guys - I totally consider you all to be my new cyber friends! You have really made my day - just the idea that someone out there is listening to what I have to say. It's very nice.
Okay, well, this post will just be a bunch of random things...
First of all, I won Mocha Mish Mash's Valentine's Day contest!! Yay!!! I got my package yesterday and check out these 5 awesome Milani nail polishes: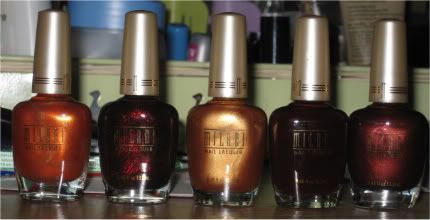 From left to right: Metallic Mango, Garnet Gems, Golden Goddess, Bella Berry, Brown-a-licious
I think the coolest of the bunch is Garnet Gems. It is black/navy but it has RED sparkles/glitter in it. So cool looking. I don't know if I can pull it off but I will definitely try them out.
My favorite by looking at the bottle is Brown-a-licious. It just looks like a deep red with golden sparkle in it. I think this will look so awesome on the nails!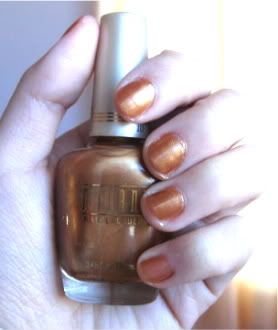 I have Golden Goddess on right now. I have to say that I enjoy the nail polish and application is so effortless. However, I don't think I look good w/ golds at all! Gold necklaces or gold eye shadows. And there is no exception for gold nail polish either.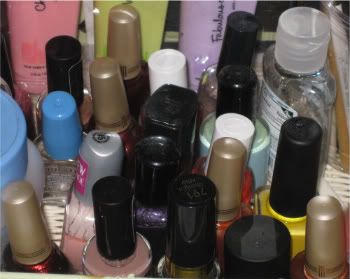 Look, my polish collection has grown exponentially!!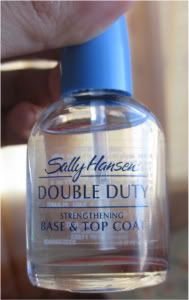 I have this as a base and a top coat... let me tell you - this stuff is amazing! And it is less than $4!! With this as a base coat - my nail polish have stayed unchipped for a week!! YES it is true. Even colors that tend to chip the 2nd day after application has managed to stay 3x longer! Get this if you are looking for a great base or top coat. Doesn't really help w/ your nails turning yellow though... but I don't really know anything that would help.
** If you guys do.... please let me know :D
----------------------
On other news: the continuation of my Project 10 Hit Pan. Well it isn't really going all that well because I've been buying cosmetics items.... BUT I still have been working hard to use up some items:
Look - I see the pan on my Rimmel bronzer!! WHOO HOO... Let me tell you that they give you 14 grams!! for this. Yeah BIG "14" so it just shows you how much I've used this item.
And my daily Neutrogena moisturizer is GONE!!! Every last drop!! I really enjoyed this product but I think I'm gonna branch out and buy something else... I hear Cetaphil might be good. Definitely requires SPF something though!
Other products following the hit pan direction: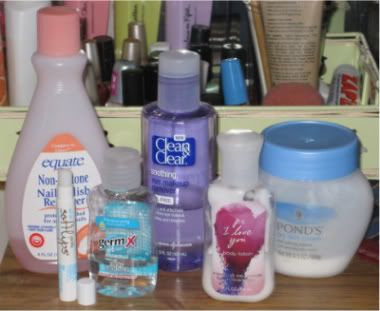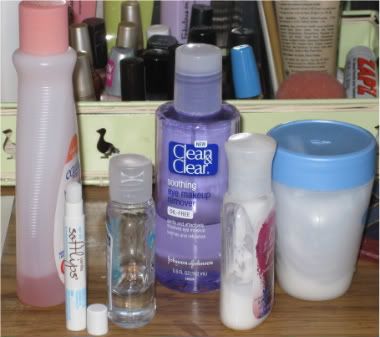 I will soon have to buy a new night creme and nail polish remover soon! Oh and a new lip balm because that's all that is left in the Softlips! Burts Bees or Palladio lip balm - HERE I COME!
----------------------
Oh by the way, I keep forgetting... BUT...
CHECK OUT NV BEAUTY'S VALENTINE GIVEAWAY
PLEASE JOIN THAT GIVEAWAY FOR AWESOME PRIZES!
Thanks so much for reading everyone!!!
Please comment - I love to hear from you all :D
Have a great day and a great weekend.