When I started this blog, I wanted reviewing to play a big part in it. However, I find reviews means more writing - and more writing means more work - and more work sucks because I get very lazy.
BUT I've gotten over that today for a brief moment to write a new review and hopefully will help you in your decision next time you're at a drugstore or something.
I am talking about the
Revlon Mineral Finishing Powder
in Sunkiss.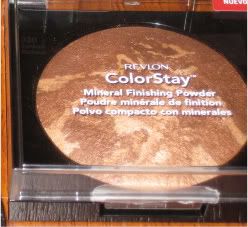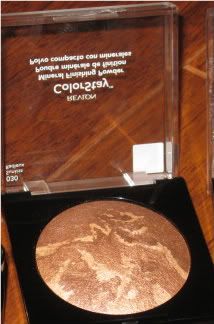 ** Terrible cropped pics b/c I've never taken a picture w/ it by itself.
First thoughts:
+ Hmmm, does it look like something... I don't know... I can't put my finger on it... OH RIGHT! THE MAC's MINERALIZE SKINFINISH... DOI!
+ It looks very pretty - colors of tan and gold together. Might make a lovely bronzer w/ golden touches. Nice to highlight with. Good summer glow.
+ Yikes $13.99, that sucks but def. cheaper than the MAC's MSF if it does turn out to be a dupe.
(Oh yeah, I always abbreviate when I write 'definitely', dunno why)
Okay, so those are my initial thoughts when I was at the store, couple of months ago, in April, I think.
Final Thoughts:
PROS:
+ Pretty color
+ Healthy - talc free and all that
CONS:
+ Really really sheer - not enough pigmentation
+ Looks like pure shimmer
OVERALL: 2/5
Okay, so maybe that's not a lot but point is you put this stuff on and it doesn't show up or it shows up as shimmers... it doesn't have any colors so I don't get why it even has colors. It just wasn't worth it for the $14.
So I would say don't buy it. If you want a pretty baked mineralized blush or bronzer or whatever, look to Prestige for that. I hear that might be better and cheaper too (maybe, I don't get Prestige here so I wouldn't know).
I ended up swapping this for something else. Sorry Revlon~ Has anyone else tried this?? Did it work for you? Let me know :)
~**~
One last note,
KC from Cambo Soup
is having a give away contest!! Her blog is awesome - please check it out.
Here's my entry: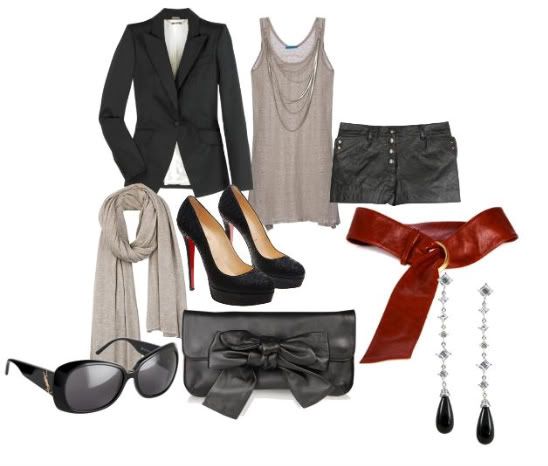 It's nothing crazy but it is something I'd totally wear. It just looks like you can wear it everywhere - party, casual, school, work! I love that the outfit is pretty neutral but then the shoes and the belt makes a statement - kinda bold statement too.
I was so new at this site that I didn't know they had tons of pages of clothes. I only thought they had one page for each clothing category. But anyways, I'm glad I don't have this much clothes because I'd be so confused what to wear all the time... but it would be nice.
Hope you enjoy this post and I hope you guys have a good weekend!
- TOodles!