What am I doing right now??? I'm drinking my homemade boba tea!! YES, I can make them at home now. Yay!
So, I want to talk about my old skin care routine that I had during the school year. I had change all of my stuff now that it is summer time but this is how I used to take care of my skin and it worked quite well for me.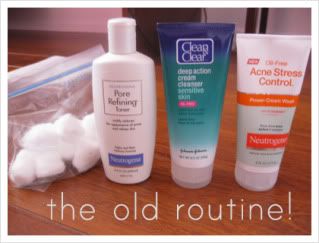 So, I started using the
Clean and Clear Deep Action Cream Cleanser
since November 08 to May of 09. Yes, I've squeezed the life out of that baby: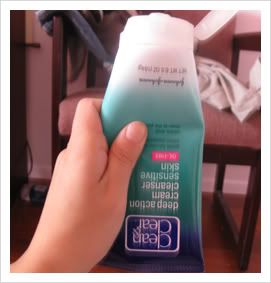 PROS
:
- It is soft and creamy
- Doesn't dry out your skin
- Gets rid of eye make up (mostly eye shadows) pretty well
(Face make up, well I can't really tell)
- Great for sensitive areas like your eyes
CONS
:
- It doesn't have the quality where you feel like it's gotten to your pores
Overall: 3/5
This is a nice and basic product. I read somewhere that you should wash your face every time before you go to bed. If you are looking for just a simple to thing to clean your face (you're not looking for acne or pore treatment) then this is a good product to use. During the winter, my pores are not noticeable and this works well for me then. However, I prefer my cleanser to feel like it is working and cleaning - not just basic soap so I give it a 3/5. Hope that made sense ;p
Now let's talk about the
Neutrogena Acne Stress Control
. I used this in from Feb 09 to now and I really like it. I don't know what happened but around December I started to get nasty break outs and some that wouldn't go away! I decided I need some help because letting my body fight against acne on its own wasn't working. SO, I bought this, hoping and wishing that it would work... I'll get to that later. Now, there is 2% Salicylic Acid in this so it's kinda like a medication. Also, the bottle talks about how this can cause more sun burn and stuff. Note that this is a cleanser - not the scrub. It comes in both. I chose the cleanser because I feel like scrubs is like a once a week thing but cleanser, you can use more. Being a medication, I always feel like it is necessary not to use the harsh stuff so often.
Anyways!::
PROS
:
- Nice smell
- Helps keep my acne in control during stressful times and hormonal times
**When you feel a pimple or blemishes coming on, starting using it until symptoms go away
***Lather it on your face and leave it there for 2 minutes - soaks in the medicine
CONS
:
- Dries out the face
- NOT FOR PEOPLE WHO ARE ACNE PRONE
- NOT USE TO GET RID OF ACNE THAT ARE ALREADY THERE
OVERALL
: 4/5
For me, it works GREAT! For my sister too actually. She started getting some blemishes and she used it and new ones have not come up and the old ones started to heal. Sadly, it doesn't work for everyone - at least it will not work if you have really bad acne and that's why I took a point off. Although the product does what it says - acne stress control. Yeah, it does help me. A lot :D!
Finally, I also use the
Neutrogena Pore Refining Toner
. My mom bought this a long time ago and I only use it now and then.
PROS
:
- Has salicylic acid
- It cleans pores well - like I would use it w/ a cotton ball and look at it later and there's dirt all over that thing!
CONS
:
- Doesn't really reduce pores
- Has alcohol in it so it really dries out the skin
OVERALL
: 3/5
There's some good stuff about it but it isn't really necessary. It cleans pores but it doesn't help w/ acne, it doesn't help with oil/shine, it doesn't help w/ anything else. That is why I feel like there must be better toners out there. I use it sometimes, but I always forget.
Well, I hope this helps...
Thanks for reading, Toodles~