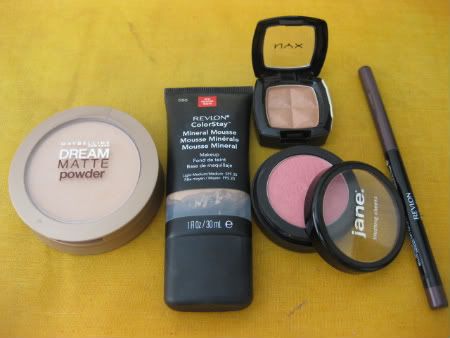 These are my summer favorites. I don't have monthly favorites b/c I'm trying not to buy anything new but this summer - I had to come up w/ whole new routines, color selections to work w/ my new tan and oiliness :p
- Maybelline Dream Matte Powder - LOVE! Works amazingly to keep shine away~ Sometimes, I just put on moisturizer which would make me shiny and then I'd put this on and VOILA~ SHINE BE GONE!
- Revlon Mineral Mousse Foundation - WEE!! Goes on all airy and moussy but great medium coverage! Feels so light but it works amazingly well. LOVE IT. Keeps shine to a minimum - not good for dry skin though.
- NYX shadow in Champagne - if I'm lazy (which it is summer, yes I will be
LAZY
), Put this on my lid, liner, mascara, DONE and DONE!
- Revlon Colorstay Eyeliner in Blackberry - speaking of liners, this is my absolute favorite. It doesn't go on as smooth as other liners but it isn't like stretching your eyes until they bleed! Actually, this color I feel goes on pretty easily and nicely. I have not problems! This color though as a nice purple undertone which is suppose to complement brown and green eyes :)
- Jane Blushing Plum - last but not least, this beautiful gorgeous little thing. This thing brightens up my face and make me look so FRESH! YUP YUP YUP! Has a bit of shimmer but even I didn't get bother by that. Now that is a good blush since I despise shimmering blushes.
Hope this helps. Now I'm off to study for my PCAT. Yes, I'm taking it again. I did decent (but could do much better) on everything except for my BIO. I got a really low score... yeah... I'm working to fix that in October.
Wish me luck!