First, you clean, moisturize, apply, and gloss!
What am I talking about - ha ha - silly me! I mean nude lips~ Thing is a have a big old problem of having really pigmented lips so its kinda hard to wear lipstick - in general. It always makes the color look different - in some cases - BAD!
But I've found two ways to achieve a decent nude-lips look w/out killing my wallet.
My star products: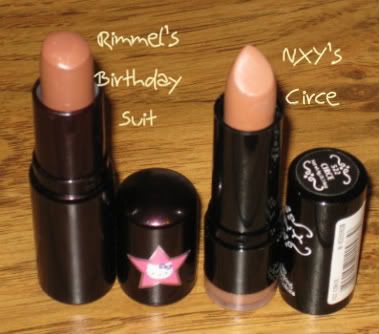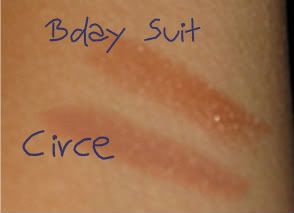 NYX's Circe
- it is like a lip pigment erasing tool! Don't need a lot of it because it is REALLY pigmented(but you do need to blend this out w/ your finger or it'll look cakey and fake). It is creamy but not so much moisturizing so do major moisturizing underneath first. It is matte so make sure you wear a gloss over it or else you'll look DEAD. But this is a good nude lipstick just because it will make your lips a skin color or really light. But I really should reinstate that you should wear it w/ a gloss - preferably a darker gloss!
Lips w/ Circe and NYX's l/g in Beige (pictured below on the left)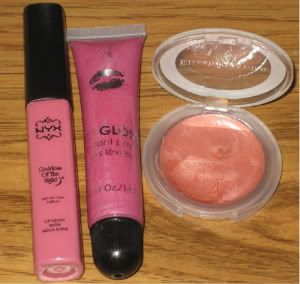 Again, I like to use the gloss to manipulate what kind of nude lip I'll have - a peachy tone, a golden/bronzy tone, or a pink tone (like the one above). These are glosses that I would generally choose.
Rimmel's Birthday Suit
- one of my first lipsticks. That's why it's lost it's shape at the top :) Even starting out, I was working for a nude lip. This doesn't have the same pigmentation as Circe but I like that I can just wear this for an everyday subtle nude lips. It gives me a glossy glow and lightens up my lips just a bit so that it looks natural. I don't know, I just like that it does for my lips. Also, it is moisturizing and no need for gloss. It's already pretty the way it is (I feel though this has been re-formulated since I last purchased it).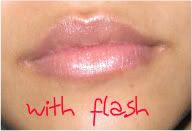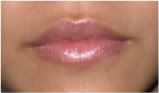 ** Doesn't do the lipstick justice! -_-;

** The real nude lips ;p
EEK, so many pictures of lips! YECH. I really thought this was gonna be short post... eh well.
HOPE YOU GUYS ENJOY~