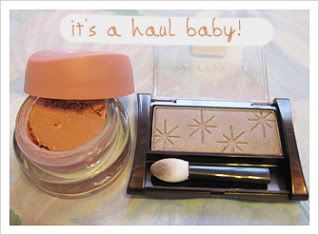 I've been using these two products for a few months now and I just want to write something about it. So, here goes, HOW I FEEL ABOUT THESE TWO PRODUCTS:
Dream Mousse Blush
in Rose Petal:
- Can find this any drugstore. I got mine for $6-7
PROS:
* Pretty color
* Goes on so smoothly and easy to blend
* Really pretty and natural finish
* Great as a blush primer
* Buildable
CONS:
* Golden shimmer - can't wear this by itself (for me)
* Doesn't last long by itself
* Color is sheer - needs to be built for color to show on darker skin tones
OVERALL: 3.5/5
* This was my first cream blush and even though there is a bit on CONS, I still like using this as a blush base. The only thing I don't like about it is the golden shimmer (but some of you might like it). The finish it leaves is great! The airless feel to it makes it seems like you are blushing naturally. I think it won't be too much harm to at least try out this product.
~ ** ~
Expert Wear Eyeshadow
single in Beach Blush
- Can find this any drugstore. I got mine for $3-4
PROS:
* Pretty pretty taupe shade!
* Last a long time (I was impressed!)
* Doesn't crease as much (or at all sometimes... my lids are temperamental)
* Soft nice texture - not powdery when brush is dipped in
* Great for all-over lid color or crease
CONS:
* Can be sheer - color needs to be built sometimes and even depends on the brush you use
OVERALL: 4.5/5
* First of all, why but the word 'blush' in your shadow name. It's weird. But I do love this
blush
shadow. I could only find one CON which is saying something. I've never tried the singles when they were in the blue packaging (tried the quad and trio) so I can't compare on how Maybelline's doing on their new formula but it is pretty good. I'm really impressed w/ the lasting power. Again, one of those things that wouldn't hurt you if you tried it :)
~ ** ~
Future posts:
- Face primer showdown: Rimmel vs. Smashbox
- Physicians Formula eyeshadow trio review
- More DIY's
Yup, hope you stay tuned!