I know I'm not a big make up expert or anything but I do use make up and I've found somethings that really work for me. And I thought I'd share!
I've done other tips that are mostly used for making make up application faster. Especially for school when you have early classes and you just want to have more time sleeping than doing make up.
Today, I have tips for EYE SHADOWS! When you are running late, use one color! Just a nice application all over the lid and you're done! What is so great about some of the colors I choose is that you can use them both for lid shade and crease shade! So when in doubt, grab the color that can do anything you want it to do :)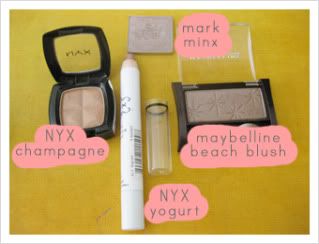 Mark's minx and Maybelline's Beach Blush are amazing at doing that. Gives such natural contour. Work it w/ the NYX Champagne and voila! Easy eye color and it looks so nice too.
Hope this helps someone.