"Last night... She said..."
Sorry - it's just a song I'm listening to right now :D The lyrics are sorta slurred together so I can't really hear what he's saying.
I just want to show you guys what I recently got (I KNOW THAT I PROMISED NOT TO BUY ANYTHING BUT ULTA KEPT SENDING ME COUPONS!!) so I just decided to stock up on Covergirl stuff since I've heard so much about some of their products.
* Professional Super Thick Lash Mascara in Black
* Wetslicks Amazemint in Slaphappy
* CoverGirl Eyeshadow single in Taupe Tapestry
And... I love them all!!!
1) The mascara is really great w/ volume! Rarely clumps. Lasts long and doesn't flake for 8hrs. The best part - it was $4.94 at Ulta. Yeah... that's CHEAP! And it works great. Not the best for length but it does give me some of that too. I'm satisfied w/ it. Love the brush - not chubby like Lash Blast.
2) The Wetslicks was in my Glamour Magazine's top 10 or something like that. It was the drugstore equivalent to MAC's lipglasses so... I was like yeah I'll try it. I love the minty smell and taste! LOVE THAT! I also love that this is pigmented. I would not have guessed that. It feels great on the lips. Not sticky and not over shimmery either. It is just great.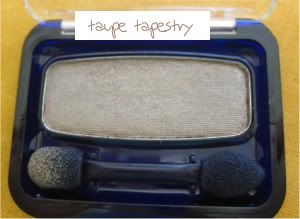 3) Shadow in Taupe Tapestry... I've heard of this from so many people and so I decided to try it finally. I almost bought the trio Shimmering Sands but I just couldn't stand to buy three more shadows that are all shimmery so I just got one. This is so awesome though. It is a cool taupe and it's on the silvery side instead of the brown side so that's really new for me. I really like using it. The only thing is that it's not very soft therefore the quality isn't as great as some other shadows. But I love the color and it's worked great for me so far. I have very little complaints.
Anyways, that's my guilty guilty haul. But I promise that's all I'm getting this month - no I lied. I have a Revlon coupon that's expiring and it's $2 off! I feel like I will get something. But besides that I'm resisting the urges to buy make up! Wish me luck w/ that... and wish me luck w/ hitting pan on things! I'm trying but sometimes I don't feel like using so much make up... ya know.
Have a great Sunday and see y'all later!!
ToOdles!