**EDIT: I wrote this on Friday but only got around to finishing the post this morning. Busy weekend!
Not kidding. It's a long story. Pretty much I don't have the keys to my car, which is on campus, so I'm waiting for my dad to come and give me my keys. Yeah!
I just wanted to talk about some of my favorite things currently and they all have to do w/ fragrance and Bath and Body Works.
I LOVE BATH AND BODY WORKS!
These are the body sprays I use everyday - just switching it up.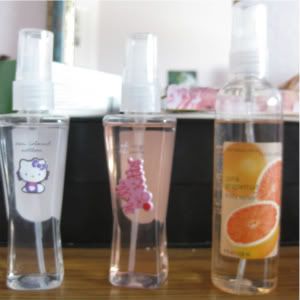 ** I decorated the bottles because they seem so dull. I got them all during the semi annual sale. There's another one in December! EXCITED!
+ Pink Grapefruit is like a nice fruity scent but it's not just that... but I love the smell of Grapefruits. I use this on days I just want to smell nice but not... girly.
+ Cherry Blossom is so pretty. It's a very girly-romantic kinda scent. Very... seductive but not to the extreme. Perfect for girls in college or young girls. I don't like it when girls wear perfume that smells like they're for older women.
+ Sea Island Cotton is that nice fresh scent that makes you smell nice and clean. It's not overwhelming. I love wearing this on my "bad" days where my hair is not right and I have no make up on. Although it doesn't smell like detergent. It is very much a body spray.
Finally, I won another contest a while back and I got a free mini PS. I Love You lotion. Their flirtiest scent apparently :D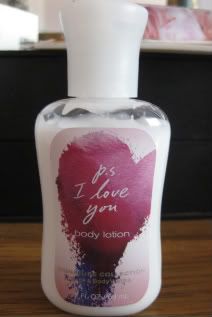 It smells very feminine and very pretty - flirty! Woo Hoo! Still a bit too much for me. I like lighter scents. I still love it though.
So to restate: I really like Bath and Body Works! It is LOVE :D
So what is your favorite scent and BBW?? Or do you guys prefer The Body Shop?