Okay so I decided to just keep track of the make up I use for everyday. I just wanted to try to use different things each day, and this is what I came up w/: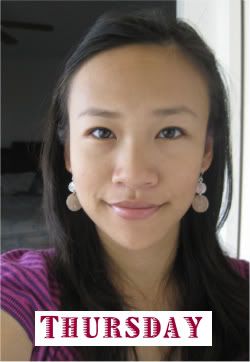 Thursday last week;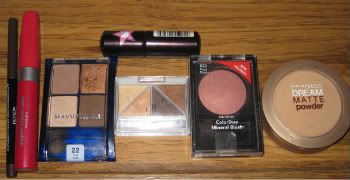 Note: Chai Latte is used for the brows and I use that everyday. Also, I always just do one color for the lid. That day, I chose ELF Butternut quad and used the copper color.
Then I busted out that Revlon Mineral blush just because it's one of my first blushes and I don't use it that often. Can't say that it stayed for 12 hrs (or is it 16) like it claims.
-----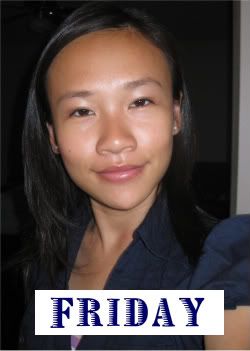 Friday last week; A good day :D
Note: Can't remember what I used... but I'm pretty sure I used my L'oreal Color Juice Stick in Chai Love You on my lips. BTW - love that shirt I have on!
-----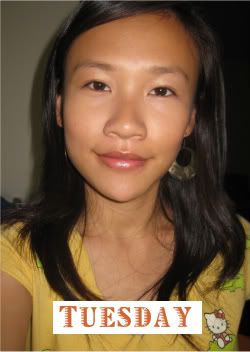 Skip to Tuesday b/c I didn't have school on Monday.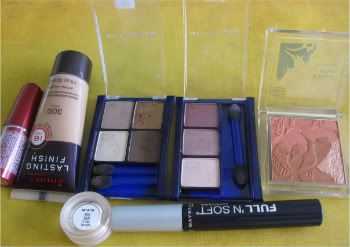 Note: The only day I used foundation... I don't know why. I just had time I guess. I came to school on time but it took me 15 minutes to find a parking space so I was 10 mins late to class... LIFE! Anyways, my friend got me the shirt w/ Hello Kitty on it. It's pretty cute :D I really like using that Maybelline Trio. Those purples are so natural, it's great. Also used a blush that I rarely use. I was surprise to see it lasted all day... I think.
-----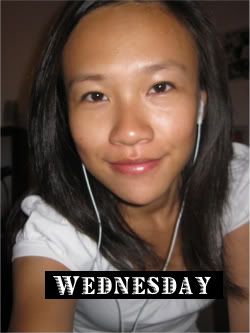 Wednesday. Bad day :( But I'm getting over it :D
Note: HOLY MOTHER - my hair was a mess.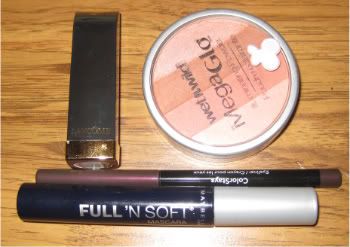 Note: This was 7 AM - yeah I didn't feel like putting on too much make up. So didn't even touch foundation or concealer. Didn't even care to go to shadows. Just blush, liner, mascara and out the door. Oh and the Lancome lipstick - one of the oldest! I haven't used that in awhile either.
-----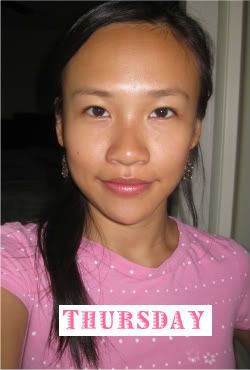 Thursday. Yesterday.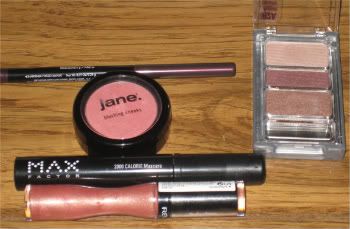 Note: I was TIRED! So I just did really simple stuff - blush, lid color, liner, and mascara! Oh and I used my Revlon Lipglaze (which I don't use often b/c it's a bit too frosty) but it really lasts! I like that.
-----
So that's my diary. This week was insane for me and I had some pretty terrible days. But I have friends to pick me up and I have the rest of the semester to look forward to. I shouldn't let little things get to me - my life can be MUCH WORSE! I was sitting at a bus stop waiting for my mom to pick me up b/c her car broke down and she had to use mine. This pregnant lady was sitting next to me and we started talking. She said that she couldn't keep her child b/c she had no money and she was taking the bus back to her motel. It made me really sad but I didn't really know what to say to that. It just got me thinking that at least I'm on the right path in my life.
-----
Anyways, tonight is Friday night but I have no plans. But tomorrow! Yay, I'm excited. Going to the football game w/ a bunch of my friends. I think we're gonna have a lot of fun.
-----
So good night - oh and I challenge you guys to do what I did. Use things that you have but rarely use! Force yourself!
ToOdles!