I've recieved this package a few weeks ago but I never got a chance to talk about it or anything.
So, the awesome Kalmo from
Cambo Soup
picked me as one of the winners for her contest!! And I was so HAPPY!! My first contest win ever! Yay! And Kalmo was so amazing about sending out her prizes!! She got everything to me in less than a week!
The day I got all her stuff I was feeling a bit down, stressed, and tired. Her gifts completely made my day.
So here's what I won :D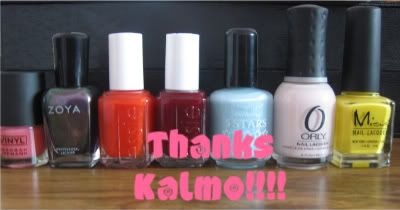 I wore the Orly one a few days back and I still have Zoya one on my toes. This color is lasting a really long time!
Then also: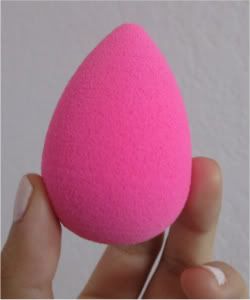 The beauty blender! yes, I have not seen/heard about it much but I do love this! It places my foundation or another make up on so smoothly - almost air-brush like! It is fantastic. For me, it is a lot quicker than using a brush - especially a stipling brush. I'm really glad that Kalmo got this for me (b/c I would never get this for myself! It's a bit over my budget) and it is so cute! My PINK LITTLE EGG xD
~ **** ~
Quick note:
Rai's having a contest
! Check it out! It's an easy one!
Answering some questions:
Rai asked me to swatch the tapestry taupe (I kept thinking it was taupe tapestry!) but I couldn't just because the lighting really washes out the color. It's a unique color and it is hard to swatch it.
From way back! Kalmo asked what my favorite Revlon Lustrous Lipgloss was: I only have two and I love them both: Life's a Peach and Pink Whisper.
Anything else... can't remember.
~ **** ~
So last night, I saw that xteeener from youtube put up a video and I watched it. It was her purple smokey eye look and I decided to try it out. My coloring is so different than hers. I personally like her colors better but this was the best that I got. I used a bunch of different products but it looks like she did too.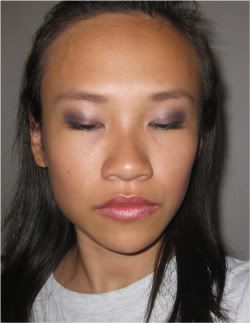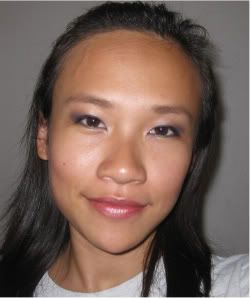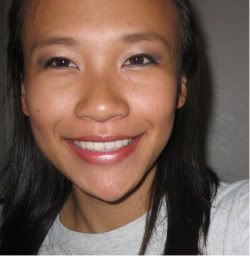 Funky picture time: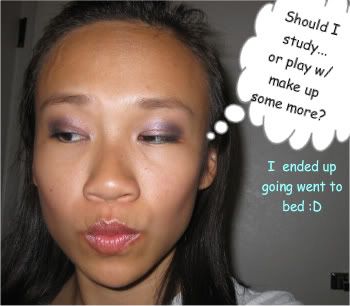 ** Did this during a study break. I had 4 tests/quizes this week! HORRIBLE HORRIBLE WEEK.
** Look at that vein popping out of my forehead. Yeah, it was bad.
All the shadows I used: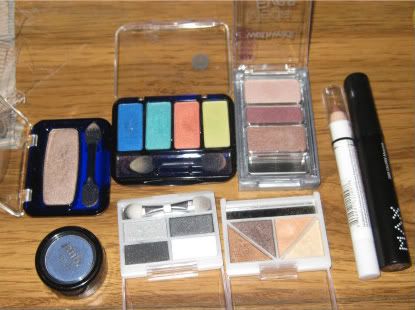 Sorry this was a long post. I try to say as much as possible because I can't post every day or as frequently as I liked. Friday afternoons are usually my time to write b/c I'm done for the week and I'm being paid to sit at a desk and do nothing.