I mentioned a few days ago that I had recently purchased the new Wet n' Wild Mega Last Lip Color and they have matte finishes.
So why did I bother buying more lipsticks when I have a massive amount still waiting to be used up?? It's because of Rose McGowan. YES - I blame it all on her!!!! If you don't know who she is, she is best known for her role in Charmed, a show where she plays Paige - half witch, half "white lighter" who helps her sister defeat evil by using the Power of Three. Oh come on! Don't tell me you've never heard of this show!!
BTW - just for all the fans out there, I went to Paramount Studios and GUESS WHAT??? I got to tour the set and the house. How awesome is that?
Back to business, Paige (the character) has the best make up and wardrobe on that show and the thing that stood out to me the most - you guessed it - HER LIP COLORS!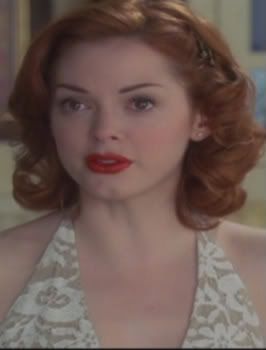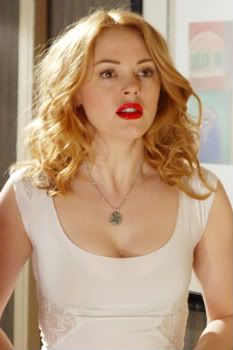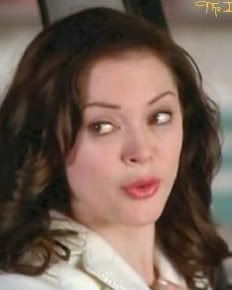 images taken from google.com, forever-charmed.com
It is so hard to find good quality Charmed pictures! But the point is, Paige/Rose McGowan always seem to be sporting the bright lips - there was one episode where she was wearing
bright fuschia
! And they colors like those that I'm always scared to wear but I do love the bright lip colors! I think it just makes the entire look FUN! So although I am not gonna run out to get that awesome looking red color that she has on in the 2nd pic, but I will try to branch out of my comfort zone and find bight and fun colors.
Thus, I went out the Target to find me some nice and cheap bright colors. The colors I have now are very much neutrals... and I wanna branch out! It is summer - I wanna have some fun.
And then, I ran into these little babies. I have heard so much and have seen quite a bit of swatches of these lippies. One thing I noticed is that Paige's lips are never too shimmery - they are very much solid colors so that's why I wanted to try these lipsticks out.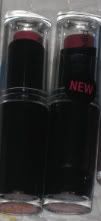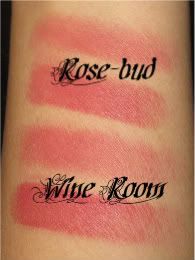 the lighter swatch is me, trying to blend out the color
I know what you are thinking - man, those colors look really similar... I know - that's what I thought too when I saw them in the tube but I just couldn't put either of them down! However, on the lips, it is definitely another story.

Wine Room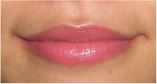 Rose-bud
Wine Room is definitely a lot more red and Rose-bud is more pink. However, Wine Room is not exactly red - it is more like a berry shade ready to bloom into red but not quite there yet.
Application
is not too hard. Putting it on my skin, it is a bit streaky and didn't go on as smoothly as I would've liked. However, on the lips, I usually moisturize before putting lipsticks on so my lips where already soft and that really helped the application.
Unlike other lipsticks from other brands, these lippies don't have a tip that fits your lips exactly. That's a minor issue that is easily fixed. I don't have any problems with it so I'm not gonna go into details - I'm sorry I didn't get a pic of the tubes... GRR!
Pigmentation
is amazing!!! I just do one swipe and I get the color that I want. The color on your lips (or should I say my lips) is the color you see in the tube! You can blend out the color to decrease the intensity of the color or you can build up the color to have a bolder color. Since my lips are already pigmented, this lipstick works perfectly!
Lasting power
is definitely better than a lot of my other lipsticks. I put Wine Room on my lips with lip balm underneath and after five hours, I wiped my lips with a napkin and I can still see some color remaining. Cool huh! However, it's not like the color remained as bold as when I first applied it. I would say by the 2nd or 3rd hour, 50% of the color is gone. Still, that's a lot better than my other lippies. Being long lasting, it doesn't apply as smoothly and it is not as moisturizing as the other lipsticks. I really suggest wearing a lip balm underneath or lip gloss over the color. Using a lip brush or your fingers to apply the color could help to get an easier application.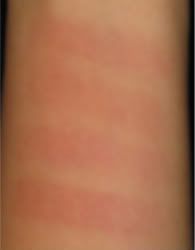 I tried to wipe the swatches away - didn't work as well as I thought
Being MATTE
doesn't really affect how it wears on my lips. Yes, it is more drying but it doesn't settle into lines or anything. It doesn't do the nasty thing where all the color in the middle of my lips disappear first so I get a ring of color. GROSS. And you know what, it doesn't look cakey - I also think that this isn't completely matte either. It has a slight shiny finish... but very subtle.
Packaging
is pretty good. Much cuter than the old WnW lipstick tubes. And it reminds me of the Revlon Colorstay lipsticks. However, why does WnW like to make part of the lipstick stick out like that? I always have to be so careful when I remove the cap because I don't want to mess up the lipstick at all.
So if you guys are ready to experiment with some nice and brighter colors - I suggest starting with these Wet n' Wild lipsticks. Being $2.99 a pop, you won't waste much money and you'll be able to see if the color works or not. I really enjoy these lippies and I think you guys will too!! Really, next time you are at a Walgreens or Target or something, please try these out!
That's all for now!!! BYE BYE BYE.