Hello everyone! I am back with more goodness - and I'm kinda excited to do this
PRODUCTS BATTLE
!!!
This time, it is between three brands and this time it is about
CREME BLUSHES
!!!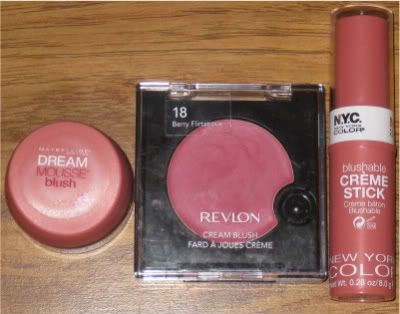 Maybelline Dream Mousse Blush // Revlon Cream Blush // NYC Blushable Creme Stick
The Colors:
Maybelline Dream Mousse Blush in Rose Petal - neutral pink with a bit of shimmer to it
Revlon Cream Blush in Berry Flirtatious - berry pink; matte finish
NYC Creme Stick in Big Apple Blush - neutral pink with a hint of coral; dewy finish
Pigmentation
:
I would say that the Revlon has the most pigmentation - but that just might be because it has the brightest color which shows up better on my face.
NYC one is pretty sheer but the color is very buildable so you can easily achieve the color you desire.
Maybelline mousse blush is sheer too - unfortunately it has little glitter particles so the more you build this color up, more shimmer will follow.
NOTE: putting a powder blush over these creme blushes can make the powder blush look more vibrant and last longer.
Texture
:
Maybelline's mousse blush is well known for the awesome texture! So it feels like mousse and blends like a dream - it is so light and creamy, it feels like this is meant to be eaten.
NYC creme stick is the second best - blends easily at first but if you are building the color, you might have to do more work. Thus - you might ruin the make up that is underneath.
This is where the Revlon one has trouble. It is so hard to blend with this... ugh... I'm still trying to figure out best way to apply it.
Lasting Power
:
I think that the Revlon had the longest lasting power because it is so hard to budge off the skin - same reason why it is hard to blend.
NYC one is again in the middle. It can last up to 3-4 hours for me - which is pretty good!
Alas, Maybelline mousse blush seem to last a very short time on my face.
NOTE: By putting a powder blush over the top, I tend to get a really nice staying power for my blushes... so I rarely wear creme blushes on they own.
OVERALL
: I would totally recommend the new NYC blush creme stick!!! This stuff is great and they have a dewy finish but not exactly shimmery like my Maybelline one. I think the color choices are really nice and since it is the cheapest one out of all three, I'm planning to get a few more. By the way, you get 8 grams per stick! DANG that's a lot.
I also really enjoy the Maybelline mousse blush because of the texture! I just wish it shows up better and that it doesn't have as much glitter in it. I also like it more if it lasted longer on my face. But that's okay.
And finally - I think I probably won't buy another Revlon creme blush just because I hate blending it. It takes quite a bit of energy... does anyone else have this problem too??
------------------------
So... my birthday is tomorrow... and my parents got me a netbook!!! Yay - it would be perfect for school. I'm so excited. It's white and adorable.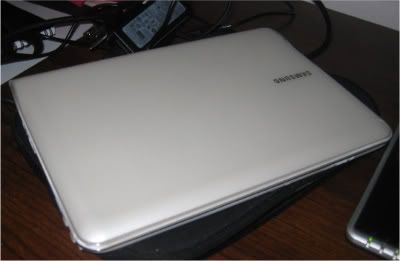 So, I'm turning 21... yay right? Well I am planning to hang out with my friends and go out but I don't feel like being 21 will be any different! Although I am a year older... yuck... I hate being older.
But now I need some advice: what should I get for myself? A bunch of drugstore items (I've been wanting to try out the new WnW palettes and matte lipsticks) or one really nice high end item?
And by high end item - which one do you guys recommend???
PLEASE LET ME KNOW!