So, even though my job situation isn't the best that it could be... I still bought some stuff - I guess to make myself feel better :p!
Anyways, the first two purchases are things that I couldn't pass up. You know - when you're really looking for something and FINALLY you found it and you're like - "AHH!! It must be fate!"
Well, that's how I felt w/ these shoes. I saw them at ROSS - yeah, Ross! Weird huh... I was looking for a pair of sandals that would give me a bit of height but I can wear to casual and non casual events.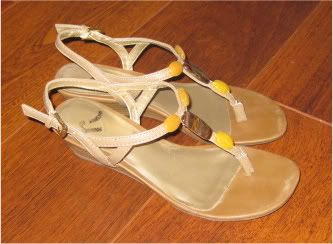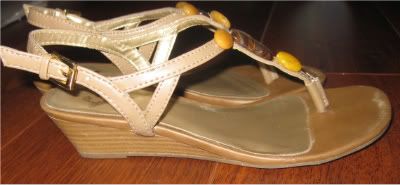 I've worn it a few times already but absolutely love it! Although I wore it to work the other day - standing around for 5 hours - wasn't the most comfortable thing ever. But yeah, I really like this. I was sooo happy to have found it. I have been looking for something like this for weeks. I was ready to pay a lot more than I did - $12.99.
The next purchase was something that I wasn't looking for, but being a hardcore COLDPLAY fan, I HAD TO -
HAD TO
get this: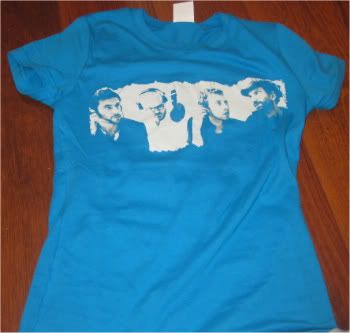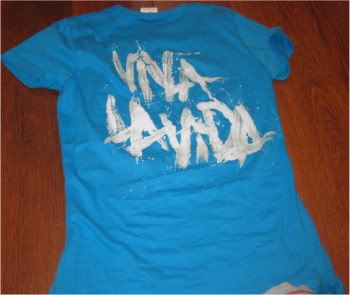 After seeing Knight and Day with my friend and sister, we all went into this store - dELIA (or something) and the girl was like - "oh, we have a bunch of sales, make sure you check them out". So I was just looking around and all of a sudden I see this blue shirt... and it had Chris Martin's face on it and it was just a moment of pure happiness when I saw that it was a Coldplay shirt - and it was on sale for $4.99. I squealed with delight for the first time that summer :D Ha ha probably not but it was something like that. Considering when I went to their concert and their band shirts were $30 and wasn't even that cute - I got an adorable band shirt for $5 and I love it! BTW - Viva la Vida has to be one of my favorite albums ever!
---------------------
So then, on to the make up stuff. CHECK THIS OUT - when money is tight - swap is the next best thing.
So I wanted to swap for Maybelline's new lip stuffies; and someone on
Makeupalley
was kind enough to agree to swap.
I got Maybelline Colorsensational Lipglosses in Strawberry Glaze and Sweet Tooth (both adorable names!).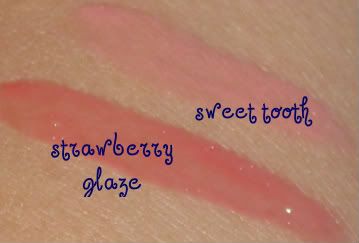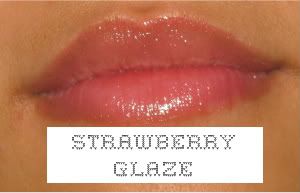 ** I gotta say, I really enjoy these! I think the texture is just great - very moisturizing and it isn't sticky at all! Even so, I think the lasting power is really great and the pigmentation is fantastic! I would say that these are both more opaque than the Revlon Lustrous Lip glosses. The only problem is that they are not very glossy - eventually the glossiness wears off and I get like a stain my lips. Which is completely cool with me but other people might not like that. Besides that I think these are really great lip glosses! I think there are a lot of colors to choose from. The only annoying thing is that the packaging is horrible - so plain and simple. The applicator is OK...
Finally, the swapper was extra nice and noticed that I've been wanting Revlon's quad in Nude Elements so she graciously added that in our swap without me knowing. It was such a nice gesture... I was so excited.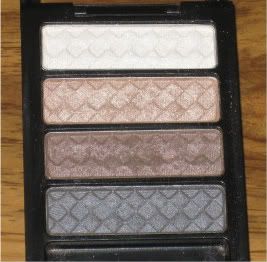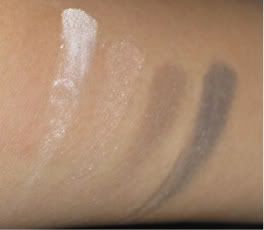 ** The most pigmented colors were the white at the top and the charcoal at the bottom. However, the two mid shades are so pretty and something that I can use on an everyday basis - champagne and taupe shades are great for all over lid colors! The pigmentation is best when a base is used... besides that I see no other issues. I would say that this quad is one of those quads that would allow a day look to go into a night look - no problem. That dark shade in the bottom can make a great smokey eye! I don't know about lasting power since I always use UDPP and so the shadows stayed on all day. I will try to get a more in-depth review once I understand this quad better.
I was playing with the quad and came up with this: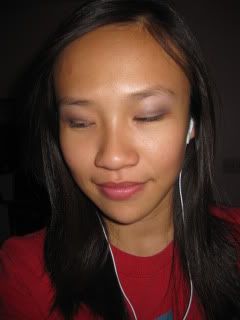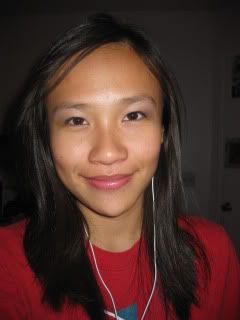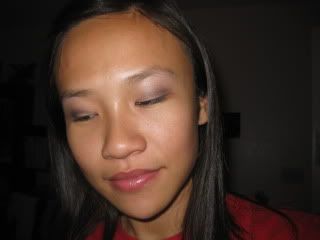 ---------------------
Thanks for reading everyone. I know I have not been updating as much as I should but there are things that I have to take care of.
I will be back soon though!
Happy Fourth of July!!!