So, it's been forever since I've done a NOTD! I have finally purchased a new nail color and applied it yesterday. This is the new Wet n' Wild polish - Megalast Nail Color, I think, in Undercover! So this is it - it is like a dark berry color. It is also a creme finish which I really like and it costs $1.97 at Target for me. Price might vary - who knows!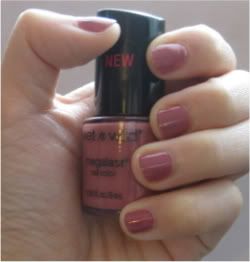 No Flash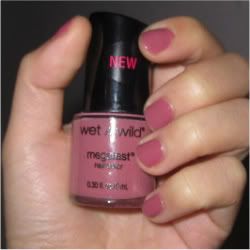 Flash
I would say that the actual color is somewhere between the two - more towards the flash side. I think this is such a pretty color and can definitely rival the more expensive brands. I also looked on the website and OH MAN, do they have a lot of shades! Being so inexpensive - I'm thinking - HECK YEAH!!
I can't exactly give a full review but application wasn't the best. The formula started out awesome - not too wet but not too goopey. Unfortunately, it got pretty goopey and streaky by the end of the application. GRR!! Thank goodness it dries to be a lot more even than I had applied it so that's a plus. I like that the brush is pretty big but a bit denser than necessary. Overall, I think I just need to get used to the nail polish because I really really like the color. I think it will be a longer wearing nail polish too... we'll see though. Once I purchased more than one color, I might do some sort of overall review!
---------------------
So I just wanted to say thank you so much for all of you guys who have followed this tiny tiny blog! I feel so happy to have an audience - I mean, I started this blog 1 1/2 year ago to write my thoughts down about beauty and all things that are girly - and I'm just so happy to have people reading and commenting and even following. I felt so comfortable in this lovely cyber community...
Sometimes I have my friends to pour out my thoughts to but when I can't really come to them for some reason, I always have you guys to cheer me up. It is very sweet and I adore you all.
That means so much to me!!
So on this occasion, I'd like to write about:
5 Make Up Ideas That I Would Tell Myself 1 1/2 Year Ago
:
1)
Eye lining
is very important!!! I finally understand that not only does it make the lashes seem more luscious but it creates the shape of the eyes. A bold liner will make an eye look seem so different than a skinnier line. Of course, I'm still trying to look for the liner that works for my eye shape - no matter what - lining your eyes is very important.
2)
Primer/priming
is a necessary step for long lasting make up. UDPP has really changed the way I wear eye shadow and my base coat for my manicure is crucial for a long wear. I also realize that using something creamy and then topping it with a powder will create strong lasting power - eye liners with powder shadow; cream shadow w/ powder shadow; cream blush with powder blush... ect
3) Blush is great but
bronzer is awesome
! I don't know about you but my family always says that I'm a pale person - I don't have a lot of color in my face... which is sad. I think bronzer warms up my face and give me some "life" back. Combining it with blush creates literally a healthy glow.
4) Stay away from
frosty lip products
- When I first started out, I very much gravitated towards the colors that are really frosty. I think I just misjudged how the color will look because I always seem to swap it away or throw it away. Now I stick strictly to cremes and even mattes. Too much shimmer on the lips is just not my thing.
5) Shouldn't have wasted your money on
MAD Minerals
- ha ha so this is where I run out of ideas. I have nothing against this site or brand - I just never ever use any of the products I purchased. They do have really pretty mineral/pigment colors, I just didn't pick out the best and I never reach for them.
And also
Things I Need To Keep Learning
1) Keep practicing blending and eye color combination
2) Learn to control yourself and not buy everything just because they are on sale! Darn you drugstore!! You know me too well...
3) Find a better way to remove eye make up - what I'm doing now is not the best! I'm using the Clean and Clear Eye Make Up Remover and it takes FOREVER and a day to remove all my make up. It also dries out my eyes.
4) Find a better way to clean and dry your brushes!!
5) Find a faster way to put make up on in the morning!
So what about you guys? Anything you'd like to tell your past selves about make up?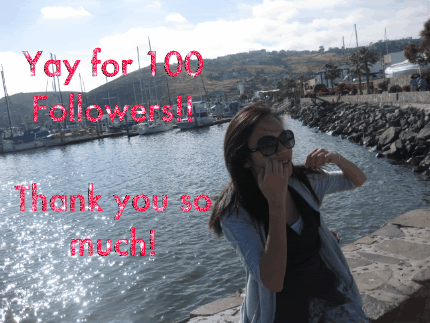 Thanks so much guys!! Look out for a 100 Followers Giveaway :D :D :D!!