You know me - I'm always sporting the really casual and simple make up but I strangely find myself more attached to certain products in the summer than other seasons.
I'll just dive into what I'm talking about without a long intro!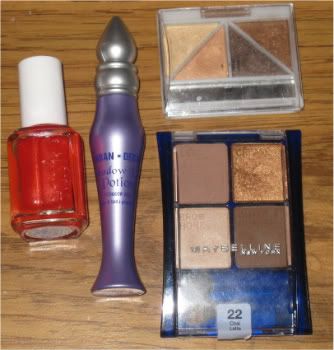 1) Essie's Nail Polish in Risky Business: This is like a bright red color with a bit of coral in it. On the nails - it looks like a tomato color but not as red because, like I said, there is a hint of coral. HOWEVER, I absolutely LOVED it when I wore it all last week. It just screams - summer time!! Fun time!! It was so awesome. BTW - I received this as a contest winner from
Cambo Soup
... so Kalmo, if you are reading... THANKS!
2)
UDPP
: Now, I'll probably need this for all seasons but I feel like ESPECIALLY summer because my lids get so oily! I love this stuff - it keeps my shadow stay intact all day. I wear eye shadows to work so I need it to stay put and not crease or anything nasty like that.
3)
Maybelline Chai Latte quad and ELF Butternut quad
: both of these are fantastic neutral colors! It's because it has the option for me to go bronze and copper... I don't know - I tend to not use taupes and purple/cool toned shadows as much during the Summer. But wait til Fall gets here... it will be taupe central!
4)
Revlon Color Burst lipstick in Soft Rose
: this brightens my face and not only that it is long lasting. Like the nail color I mentioned above - this has a bright color that sings a long to the Grease song: "Summer lovin' happened so fast"...
Those are definitely the ones I reach for the most right now.
But these are the ones that are sitting my drawers... hoping for some love! But that won't come until the colder weather gets here... sorry babies!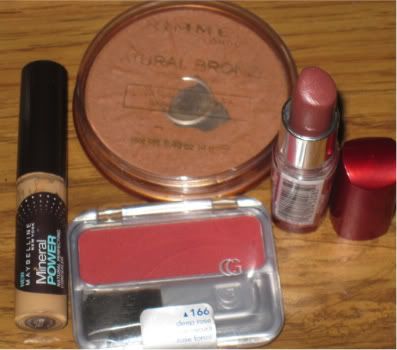 1)
Maybelline Mineral Power Concealer
: This is way too light for me during the summer. If I wanted to use it, I had to mix with with my foundation that is too dark for me... kinda a hassle when you don't have time.
2)
Rimmel Natural Bronzer in Sun Light
: Fantastic bronzer! Too bad I'm already tan so I don't really need that anymore... ha ha... oh well. Look how much this bronzer was loved... and will be loved again once the sun stops shining so frickin hard!
3)
CoverGirl's Cheekers Blush in Deep Rose
: Now this blush is PURE PIGMENT! Ha ha maybe not but it is so pigmented. It gives me the look of "I was playing in the snow all day" kinda look... now it is summer... so I don't really need to look like I've been playing in snow. But no worries, I will use the heck out of it once December hits again.
4) Maybelline's Moisture Extreme in Rum Raisin: I know I wrote about this lipstick before but I can't find the post... pretty much I love this lipstick... again for the winter time. I don't know. It gives me a deeper reddish shade and I think I prefer something that lights up my face more. This is a weird choice for me.
-------------------------
So, do you guys separate your products like this too or do you use everything all the time - no matter the season. Let me know!
Also, please vote in my poll - I really want to know what you guys have been gravitation towards when you go shopping for make up.
Lately, I've been going lipstick crazy! I think after the WnW lipsticks though, I am done for a while :) Usually when I go shopping and nothing catches my eyes, I tend to look at the blush and bronzer section more. Don't know why... because Lord knows I have way too many!
Thanks for reading!