They'll keep us apart and they won't stop breaking us down
Hold me
Our lips must always be sealed
MUSE!!! I LOVE THIS BAND!!! AHH!!!!
Okay, so now that I've calmed down...
I'm DONE WITH SCHOOL!!! DONE WITH THE SEMESTER! AHHHH!!!!
Thank the lord!
Okay, so now that I'm done w/ that... I will get to the make up section of this post:
Winter make up!! What is different? Well, I find the biggest difference is in the colors that I choose. Not really the eyes but the face... I'll show you what I mean: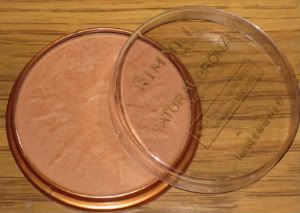 *Rimmel's Natural Mineral Bronzer in Sunlight

BRONZER!!! I feel so pale and look so unhealthy without bronzers! I know people love their bronzers in the summer but I'm so tan anyways that I never reach for it... until now. No, I'm not kidding, I can really see a difference in my face and my coloring. It is really nice!

This bronzer is my first, only, and def. favorite! I was sad to miss out on the Milani Bronzer sale at Walgreens this week. Oh well!

Besides that, blushes are also very different (and one reason I wanted to do this post so I can show you this pic):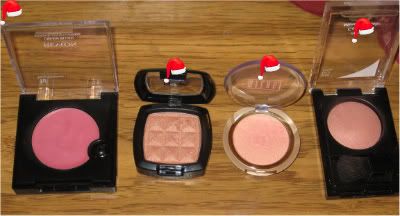 * Shimmery blushes!

Okay, so this isn't extremely shimmery but more satiny. For some reason I really like the glow the finish gives my face. Again, this is stuff peole pull out during summer time but I guess I am just backwards. I think since the sun isn't there anymore I need extra glowiness... and that's why these have been used more often than in the summer time. Plus during the sun hits the product and my face look like some sorta disco ball! BTW, I use my Revlon cream blush to be the base since they all need that :)

But check out those Santa hats! Aren't they f'ing amazing :D

However, the blush I have on today is probably my most pigmented blush and the blush that will surely give you the "Oh, I just played in the snow and now I've come back in" look - pretty rosey cheeks!!!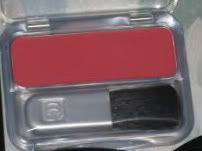 *Covergirl Cheekers in Deep Rose

I wore this today and I was like "OH YES!! YES YES!! UH HUH!!" you know what I mean. I absolutely love the color it gave me... and the best part... pigmentation. I barely put any on. LOVE IT!

Finally, and this is kinda an important one: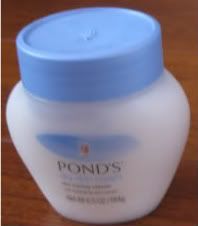 * Pond's face cream
This baby has saved me from crazy dry skin! I absolutely love it :D

-----------------

OOKAY!! Anyways, so I feel a little awkward about going to this particular CVS to look at make up.

Sometimes I go pick up my sister and her school is really close to a CVS so If I'm ever really early, I'll just stop by for 5 mins to look at the sales or at stuff... you know the usual. Well lately, there's like this security dude standing at the door. And at first he's just a nice little greeter but the other day I can totally tell that he is looking to make sure I wasn't shop lifting or anything. It's that kind of scrutiny that I really don't like! It's like - dude, leave me alone! I know I come by here a lot (twice a week sometimes) for just a few mins but that doesn't mean that I am shop lifting! I felt uncomfortable! So now I probably won't go there anymore... or I'll wait awhile to go back :)

This morning I went to Walgreens to check out their sales... all the PF are gone! That's okay though... I was there more for the bronzers but I picked up Java Bean from Milani (those shadows are on sale BTW!!) and the cashier couldn't scan for the longest time! It took him like 10 mins!

What is up with drugstore and make up. Is like there is a CURSE put on me - I can't buy my make up from dugstores smoothly anymore! Ha ha. At least I still have ULTA -oh please don't take that away from me too!

- Anyways, thanks for reading! I just took a bunch of pics so wait for more upcoming posts! Right now, I just want to be sleeping... OH WELL.