Anyways, as I'm at work - getting productive and actually doing my homework (YAY!), I decided to take a break and write a little post... about makeup... of course.
So, I am kinda falling in love all over again with Revlon. I bought a few products that I talked about in my last post, but now I am talking about a quad that I got from them.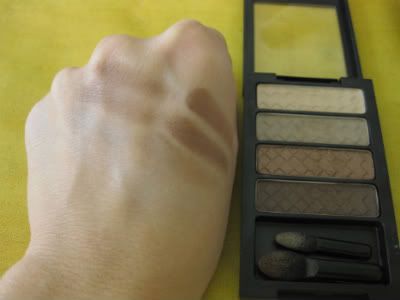 Revlon Colorstay Eyeshadow Quad in Coffee Beans
The bottom swatches are w/ UDPP underneath
** colors are better in person!
PROS:
+ Matte shadows!! Perfect for everyday look
+ I adore all of the shades - all really great colors
(especially the coppery color next to the darkest brown)
+ Not powdery texture
+ Very cheap - especially at Walmart :D
+ Good staying power! Up to 4-5 hours with no base :D
CONS:
+ Not the easiest to blend... but not bad though
+ You need a good base to get the best color payoff
OVERALL: 4/5
I wish it was a bit more pigmented and easier to blend however I think I like this quad more than the Maybelline Chai Latte.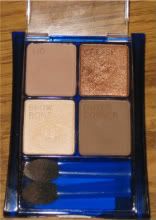 - I love the highlight from the Revlon quad. It is pigmented but it is also matte so that's pretty cool. The Maybelline quad has an okay highlight but I HATE that it has glitter in it. Not just shimmer but GLITTER! So when I place it in my inner corner, the glitter gets everywhere on my lid. No, I bought matte shadows for a reason, I don't want glitter all over my eyes! *rant over*
- I like both the lid colors. The Revlon quad has a more cool-toned taupe lid color while the Maybelline has a warm-toned taupe color. Because of this, I think the Revlon color looks better on me just because the Maybelline color looks too much like my eyelid color. But again, both are good, no complaints. Both pigmented in the same degree.
- Now, I like the coppery shade WAY MORE than the gold shade. The coppery shade is actually more wearable than the gold shade. Again, I think it has to do something with how much more shimmery and maybe even glittery the gold color is. I just would rather wear the copper shade from Revlon. I think the Maybelline gold is more pigmented though - and these gold shades look really cool on the lower lashline during the holiday seasons :D
- For the final color, I think I like the Maybelline dark color more. I feel like dark colors should be blendable and I think Maybelline shadows are more soft and blendable than the Revlon shadows. However, again, the Revlon shadow color is more interesting because it has a plummy undertone while the Maybelline is just your typical chocolate brown color. With that said, the Chai Latte brown is what I use EVERYDAY to do my brows so I really do love it.
Overall, both are really good quads. If you like matte, natural colors looks like me, really look into these quads. They are great tools for beginners! Like me :)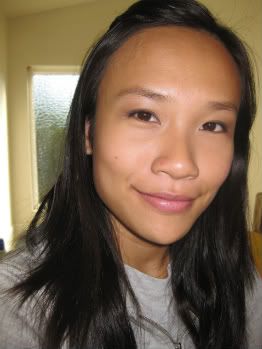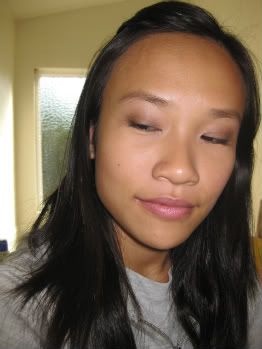 ---------------------
In other news:
I woke up w/ a swollen eye today - yeah, the skin around it is just puffy!! I don't know what is going on...?? Allergies? This has been happening to me so often that I'm starting to worry - sometimes my lips get puffy and some times other parts of my body also gets swollen... especially around my joints and stuff. And very often on Sunday mornings... when I have to go to work!! URGH. At least I took a Claritin and then wore my glasses to hide my puffy eye for the moment.
My mom asked if I had put on any make up on Saturday and, even though I did go to a hockey game, I was running late so all I had on was blush. This means that I haven't worn any eye make since Thursday. So I guess it is not make up related and leaning towards food related.
- My trick to divert people from looking at my puffy eyes:
1) Wear glasses
2) brighter color blush (Revlon A Floral Affair - Honeybunch) - you will look healthier :D
3) Fill in eyebrows - take a little bit of attention away from the eyes
4) Darker lipstick - Using my Lancome Mars

5) Flawless face - just another way to make you look healthier