Okay, so this post has nothing to do with Peter or Paul but it does have something to do with Revlon.
Now, I did a similar post way back talking about my 3 favorites, my 3 unsure items, and then the items I
hate
dislike. This time, I'm gonna do it for Revlon products. Please excuse the picture - I think this was really late at night in my room :)
1) 3 Things I LOVE: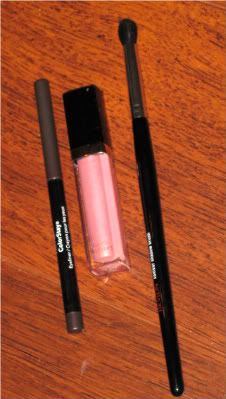 ** I guess, it is not surprise:
- Lustrous lipglosses - the one in the pic is Pink Whisper (I have 2 and I like them both!)
- Colorstay eyeliner - blackberry is my absolute favorite (and I have 3)
- The eyeshadow contour brush - this is my recent favorite! I love how soft and well cut it is. LOVE IT!!
2) 3 Things I think are only OKAY:
** This categories mostly deals with things that I like but doesn't always work
- Illuminance creme shadow - the picture above is Coastal Blues - if you use too much, you're screwed. If you don't have a good base, you're screwed. If you are wearing dark shadows over it with no base, you're screwed - crease city! But if you do all of the above, then you should be fine... and that is why sometimes I don't like it. Now, I haven't really worn it out in public yet but just playing around when I'm taking "study breaks" but I remember trying out a smokey eye and even the stupid thing creased and faded 10 minutes after application - 10 MINUTES!!! However, make up artists have said they really like using this because it works on the lids as well as the cheeks - of course w/ the right colors :)
- Mineral mousse foundation - I like this foundation during the summer because it really covers pores and really mattifies your face well. Also, this comes w/ an amazing light quality - you won't feel it on your face AT ALL!!! HOWEVER, I cannot wear this in the winter time or even in the fall - no this has to be worn when my T-zone is oozing out oils or else my face will look so cakey and dry! A great product for oily-faced people but not for combination or dry! So, too bad but I'll have to use you next year, little one.
- Midnight Affair nail polish - an awesome blue/black color. I love dark colors that is really close to black but it isn't... you know what I mean? I really like it but I think because it is so dark that it is a hassel to put on and take off. So, this one is more of a personal preferrence. Every time I wear it, someone asks me why my nails are so dark...? Because I'm wearing dark polish! Anyways, nothing wrong w/ this color I just hate having to take it off... so messy.
3) 3 Things I absolutely DESPISE!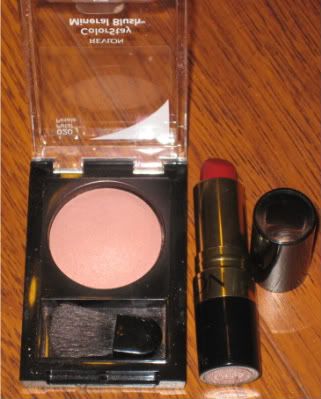 ** This was HARD because I definitely got rid of all the things I despise so... I guess these are things I don't recommend you buying when you go to the store
- Colorstay Mineral Blush - Rose Petal; this is actually a really pretty color w/ a bit of a shimmer to it - so it isn't a matte blush. So you get somewhat of a glow when you wear it :) However, the colorstay part is not true and the pigmentation needs work. I had to build and build and build the color!! Overall, good blush but I won't buy this again nor will I buy any color from this line again. There are better and cheaper blushes out there!
- Revlon Lustrous lipstick - Mulled Whine - a really deep red and really isn't my favorite. I have two other red lipsticks (Lancome Mars and NYX Apollo) and those are 100x better. So save your money with this and get something else. I got this from a swap so I didn't buy this myself.

- Revlon 3D Mascara - No, this one I despise. I hate this mascara... the end. HATE IT!! UGH!
----------------------
So, that ends that. But I will end the post w/ more happy note: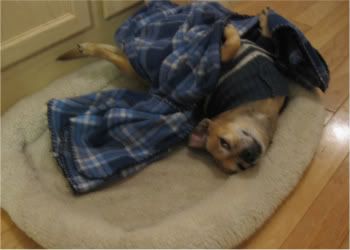 ** Nope, I didn't make him pose like that. I found him like that :)
PS. I am sick - just the cold though but still... EH!!! Runny nose!
Hope you guys are doing well out there! Carry hand sanitizer w/ you at all times!
- Ndoodles!