For the holidays, why not juice up your traditional red lipstick look w/ GOLD gloss??
I got this Victoria's Secret gloss a long time ago but it is so awesome b/c it is FULL of golden shimmers! Really great to place on top of your lips!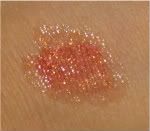 I dunno, I thought that would be really fun!
OR, if you want a more dramatic look, use some gold shadow and place it in the middle of your lips to create a voluptuous look.