I started buying and, I guess... "collecting", make up for about 2 years now. Today, I decided that I need to PURGE this "collection" so that I don't have a drawer with random stuff I don't use anymore.
This is a MAJOR PURGE - I haven't gotten rid of so many things like this EVER! So here is what I had to say goodbye to: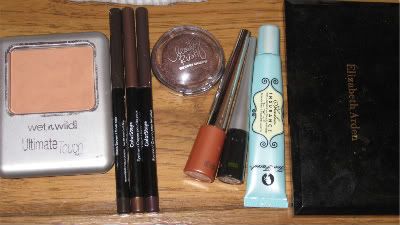 * WnW'd Ultimate Touch Powder - have this for way too long but never use it b/c the color is ORANGE-based. No thanks WnW... even though I did get this for 0.79 cents :)
* Revlon Colorstay Eyeliner - Yes, all three!! They all dried out on me. I got to the point where I would drag the pencil really hard on the back of my hand and it wouldn't even work. WTF??
Looking for drugstore, creamy and good eyeliner - if anyone can recommend me any... that'll be GREAT!
* Victoria's Secret Beauty Rush eyeshadow - it came to be broken, I fixed it with alcohol but it recently broke apart again. I figured since it is so close to my Milani's Java Bean, I can afford to throw it away since I'm never gonna use Java Bean up.
* Too Faced Shadow Insurance - I like UDPP better. Plus this is starting to separate and that just gross me out.
* Elizabeth Arden palette - my dad got this for my mom when I was... 13? 8 years-ish... YUP - BYE BYE.
* Elizabeth Arden lip glosses in the pot - too old too old! Though they were quite pretty.
* Lancome's lipstick in Pink in Limo - I didn't like this color at all. It applies with difficult and just doesn't compare to my other Lancome lippies. It had to go a long time ago.
* Revlon's Creme Blush - it was too drying - hard to apply and didn't last long on my face. I NEVER EVER reach for it.
* Revlon's Colorstay Mousse Foundation - I like the coverage and the light feel but it was a weird color and I've had it for so long that the oil is starting to separate from the product. Quite nasty if you ask me.
Others not pictured
* ELF's blush in Innocent - one of those old $1... hate it. Really powdery and doesn't show up on my face at all.
* ELF's shimmering facial whip - again - product is separating and it is gross.
* NYC eyelash curler - one of my oldest! And it sucked. Ha ha!
* Elizabeth Arden eyeliner
* Trash and other packaging still lying around
******
Move on to something more interesting: SWAP!!!
So I have products that I rarely touch but still usable. So I figured instead of throwing those away, I would like to swap them with some of you or maybe just send them to you for free - as like a weird giveaway... not really... type thing.
Of course I'd rather swap for these but if it's not possible then I don't really mind just giving you guys stuff.
Comment with your email if you are interested
, you can judge how much is used by the pictures: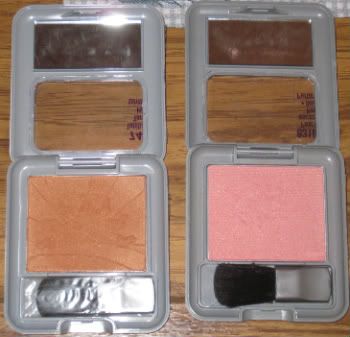 ** Old packaging of WnW's blush and bronzer.
Tahitian Bronzer
Pearlescent Pink Blush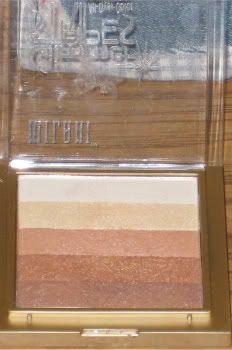 ** Milani Glimmer Stripes in Honey Glimmer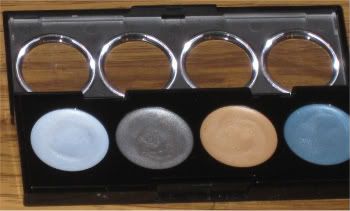 **
Revlon's Illuminance Cream Shadows in Coastal Blues
**
Jane's Blushing Plum
** Far RIGHT - a favorite of mine but I just have way too many other blushes to give this any attention!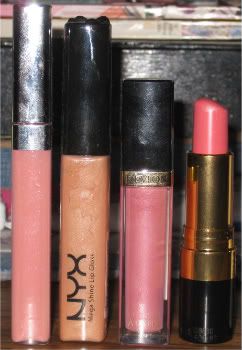 **
Maybelline Colorsensational Lipglosses in Sweet Tooth
** NYX's Mega Shine lip gloss in Frosteed Beige
** Revlon's Super Lustrous lip gloss in Pink Whisper
** Revlon Lustrous Lipstick in Wink for Pink
RULES:

- if you don't want to swap - choose at least two items so I'm wasting too much money on postage

- if you want to swap: here are some things I'm interested in & I want pictures as well;
Please send me stuff that is still usable and not way past expiration date. All of these products are just not my style, my color but I still find them usable.
** Covergirl's eyeshadows --> preferably neutral shades
** Eyeliners --> want them to be creamy to apply
** Eyeshadows --> mostly from Wet N' Wild or NYX's singles
** Surprise me!!! Ha ha... I honestly don't really know.
******
So yes, I totally recommend you guys to purge your collection as well. I feel


very content after this massive clean.
I hope this is one step to making 2011 a
FRESH START
!!!!